When I joined Tumblr not too long ago, I never would have thought there would be so many blogs that were open to submissions! It was awesome! I was hoping that whatever content I submitted would be chosen to be looked at by millions of viewers - if it was good enough.
I started combing through all my party photos - looking for just the right submission to LATFH and I'd found it: a photo from 8/2/08 - the night that Sloppy Seconds got moved from the flooded MJQ to above sea level Graveyard.  It was rainy, crowded and unusually crazy.  There was this guy in attendance who was kind of hamming it up for the camera - any camera, so I clicked away at him to see what kind of ridiculousness I could get and it was enough ridiculousness for LATFH - the book!
I'm very proud of myself, I must say.  Some of the other photos are awesome and x100000 way more out there than mine!  And even though it may be a silly thing to be excited over, I still am.  It's fucking awesome to see my photo in a book!  Technically, I'm a published photographer!  Hell yes!  And it's all thanks to Joe Mande and 
Look At This Fucking Hipster
. Oh and also the hipsters.
Look for the book in bookstores on
March 30
!  I got an advanced copy because I'm awesome like that.
Here's the photo in all it's book glory: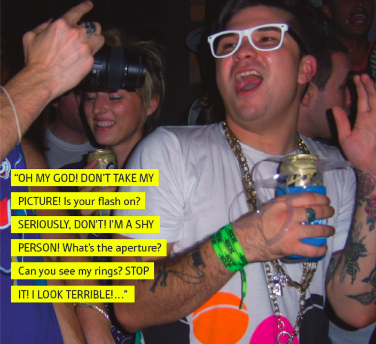 Here's a link to the
FB album
from where it came.
And, apparently, the guy in the photo is
Cory Enemy
- a DJ / producer from LA.  Exposure?  I think so - but I would like a confirmation, just to make sure the right person is getting credit.
Be sure to check out the book and laugh at the good times had by all!

Love and kisses,
Katzi
S.L.Y.A.S.D.I.