I was working at North Avenue Post yesterday and I happened to be in the Machine Room (aka
the Glass Case of Emotion
) bothering Mario (as usual - except it was the DVD Edition), and I noticed a wacky headline:
First 100 Days: Assessing the "Swagga"
.
And according to
Buzz Feed
I missed the most awkward fist bump EVER.
But the headline was there all day. I promise you. Because I walked by the TV at a later time of day, saw the headline and said, "We're CNN. We're hip to what the kids are saying these days, yessirree," while wagging my finger and doing a crotchety version of the
Kid 'n Play
. You know the dance I'm talking about...
I can only imagine what Anderson Cooper thought when he saw that headline / fist bump combo...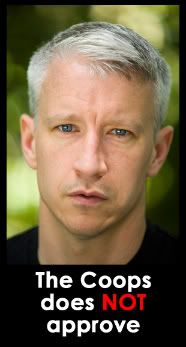 Neither do I Anderson, neither do I.
♥
Katzi
S.L.Y.A.S.D.I.