Because I've been really busy at work, I haven't been able to talk about the DISASTER that was the Project Runway season 8 finale.
WHAT
THE
FUCK
HAPPENED?
We all thought Mondo had it in the bag, hands down. His runway show was downright fashion current AND fashion forward. So what the hell, Michael Kors? What the hell is wrong with you? This was the first time wearability has been an issue during Fashion Week and as far as I'm concerned, Mondo's was the MOST wearable. Andy's was second. Gretchen will not even be considered. Why? Take a look...
I see Gretchen ovbs thinks granny panties are fashion forward...especially since she used them not once, twice but THREE TIMES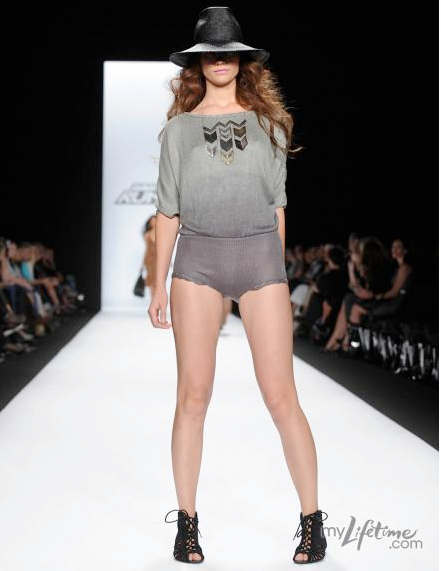 I guess Gretchen was also appealing to Michael Kors' inner Iceman using Aviators in her styling...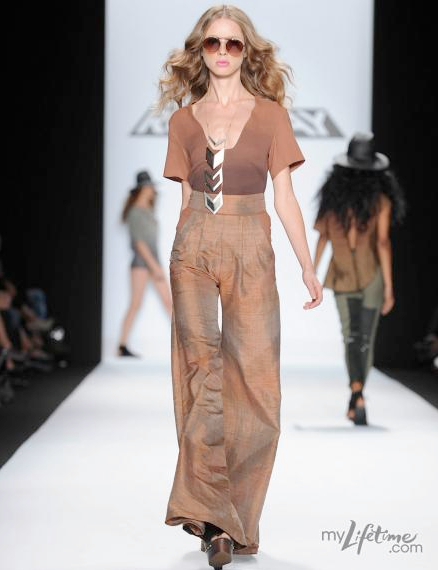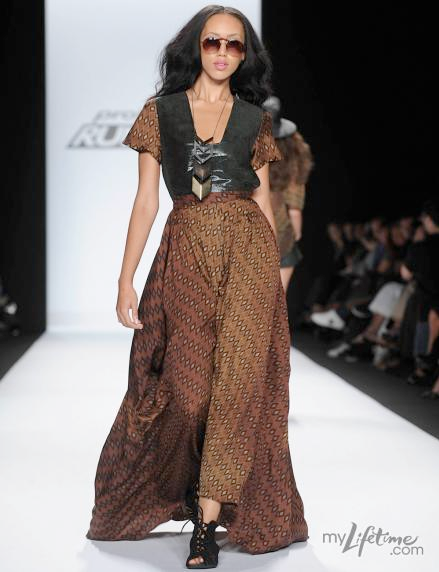 These models look like they're about to go on a safari with the rest of the models...
This poor model looks like she's wet herself...
This poor model looks like she's wearing a pair of sparkly diaper shorts...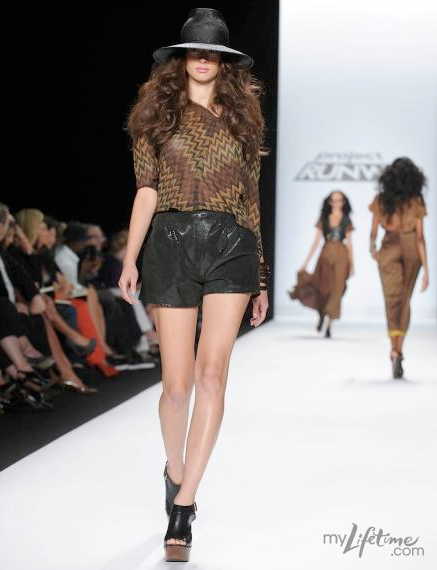 Not for nothing, I think the jewelry was wonderful. I had a sneaking suspicion that her Mom had made it (since she said her mom made jewelry a few episodes back) but all she said was that she sketched it out and had it forged for her.
Remember that sentence
Andy's was such a HUGE departure from what he had been doing all season. It was kind of awesome to see him outside of his comfort zone but it was a little hard to watch because he was outside of his comfort zone. It felt like Andy's collection was damned if you do, damned if you don't. He was damned if he made his signature "Donimatrix" look and he ended up being damned because he didn't make it. I thought it was well thought out but so far away from all his other looks...
I'm not sure how I feel about this look but I do know this: I'm probably the only person who LOVES his headpieces.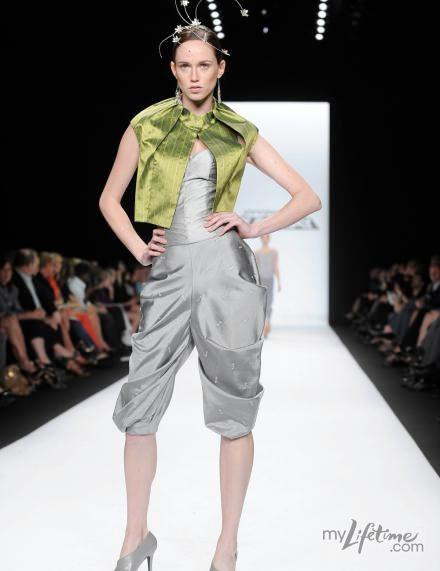 This one was a little matronly for my tastes...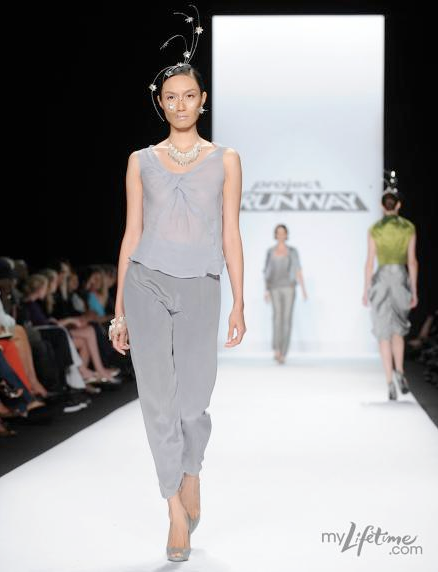 Okay - together, this look is blah but could you imagine the top and cropped jacket with some jeans? Adorbs!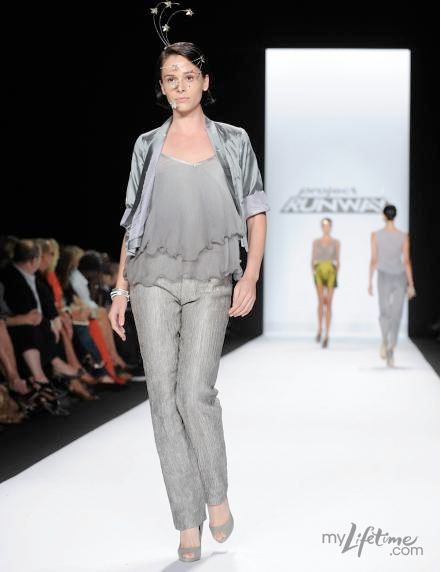 I wasn't a big fan of this outfit but this was my favourite headpiece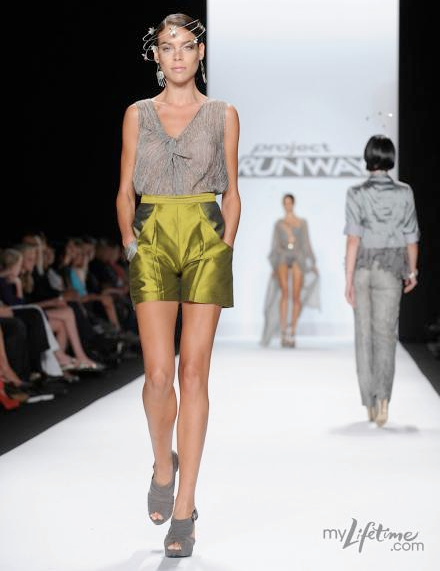 Okay - we said this outfit looked like a hair tree was growing out of her crotch
(we were hoping Kors would say something about the crazy crotch for drinking game reasons but he didn't. And that wasn't the first time Kors let us down that night...)
but I guess he minimized the hair tree with a cover up in the same fabric???
Loved it. Simple but still a statement piece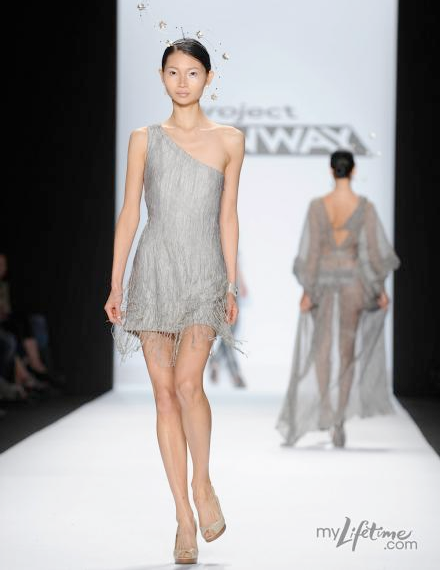 I loved the top here but I could've gone without the pants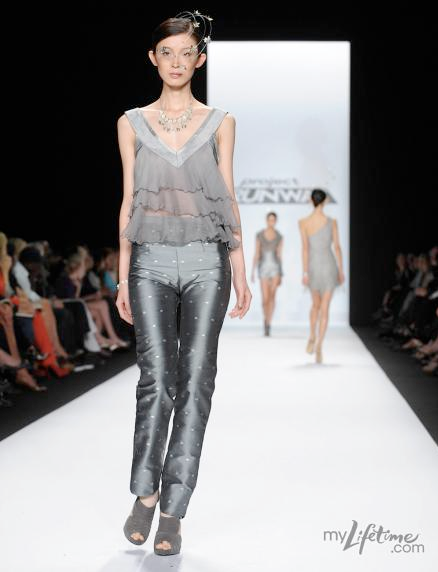 Loved it. Very

Gossip Girl

-ish. Also, my second most favourite headpiece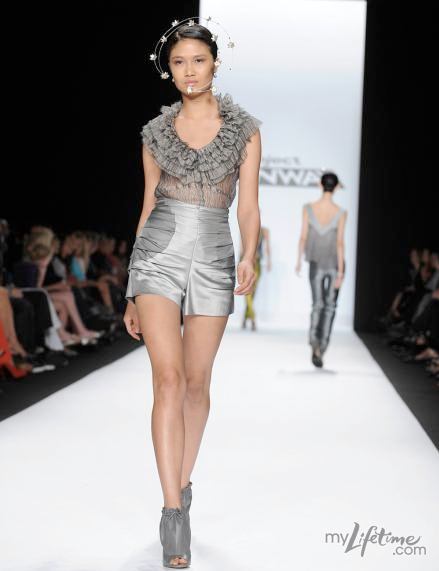 I liked the weaving on the top but I'm not a fan of that green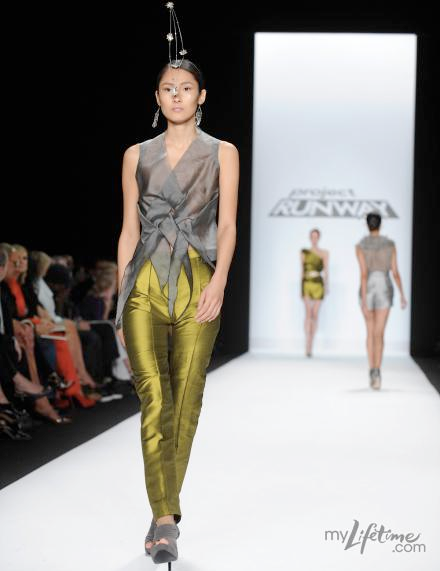 Again, not a fan of the green BUT this dress was pretty and I would love to see it in other colours. To me, that would be a fabs little black dress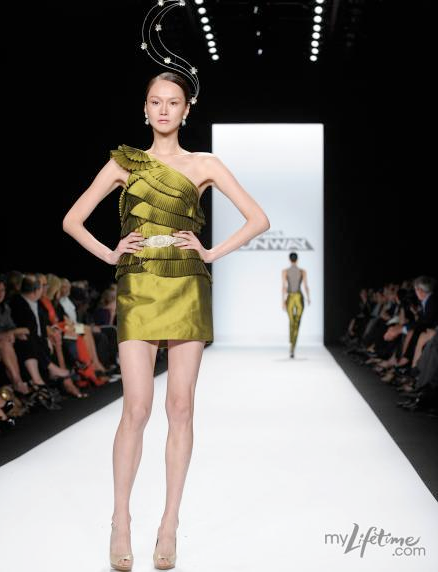 And last, but certainly not least, Mondo's collection. A lot of his clothing was also very Gossip Girl-ish but I love it all as complete outfits and as separates. I also really like his headpieces. One thing that he made sure to mention was that he made, hand-beaded and screenprinted ALL of his looks himself. To me (as a crafter), that means the world to know that he did all of that himself. It just adds a little something extra knowing that he put in the time and effort for every piece.
This is very Gossip Girl and I would LOVE to see it on the show
Can I just say that I LOVE his painted leather technique?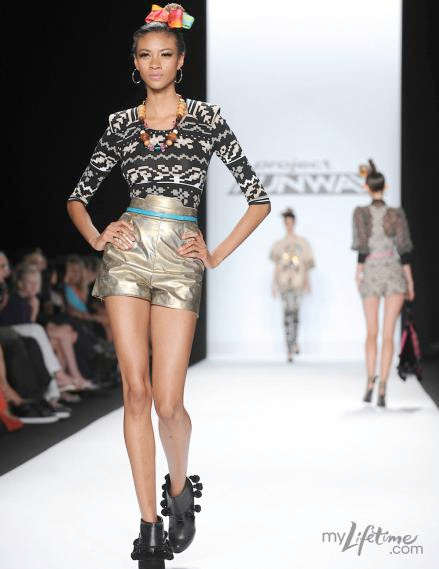 For my body type, I think I would make a total mess out of this outfit. BUT - if I wore it as separates, total WIN. And I would get more than 1 outfit. Double WIN.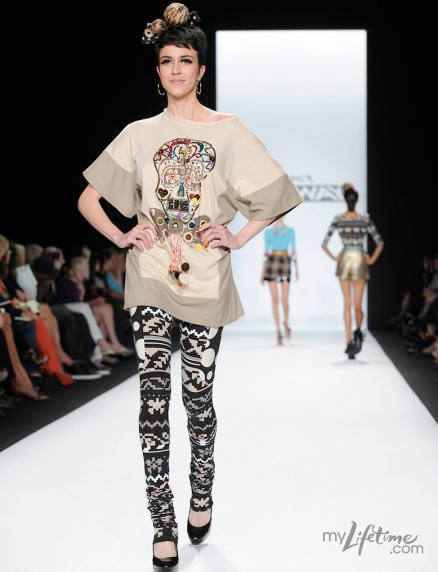 LOVE THIS. Total Gossip Girl
LOVE THIS! If I had the money, I'd commission Mondo to make this dress for me

(in my size)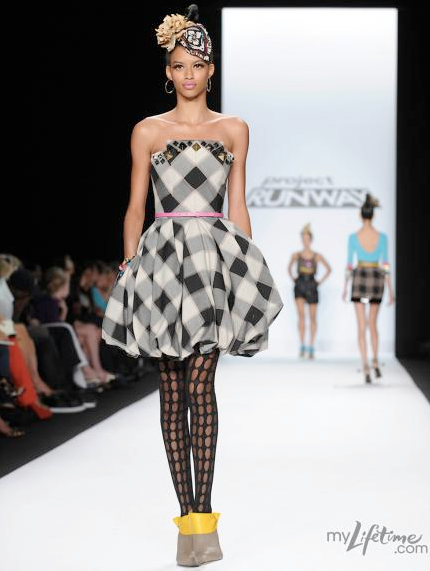 Same thing: If I had the money, I'd commission Mondo to make this dress for me

(in my size)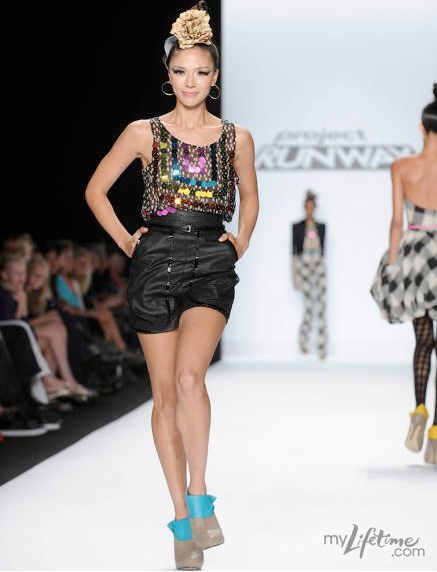 Love the pants. For me, these would be great separates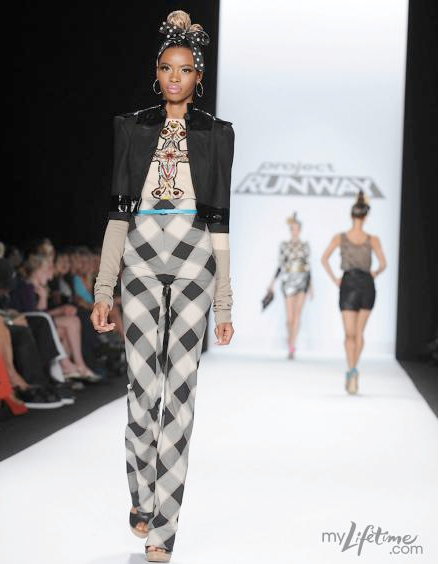 Again - Loving the painted leather technique AND I really like the "groove is in the heart" polka dot pattern as a shirt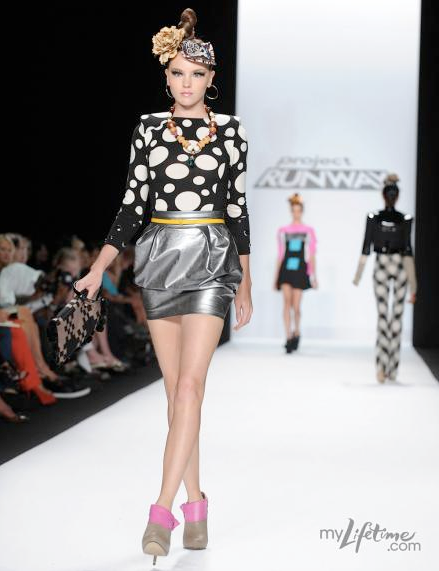 This would look great paired with pants. I'm not daring enough to be able to begin to pull this off as a dress. I love the colours and colour blocking on this little number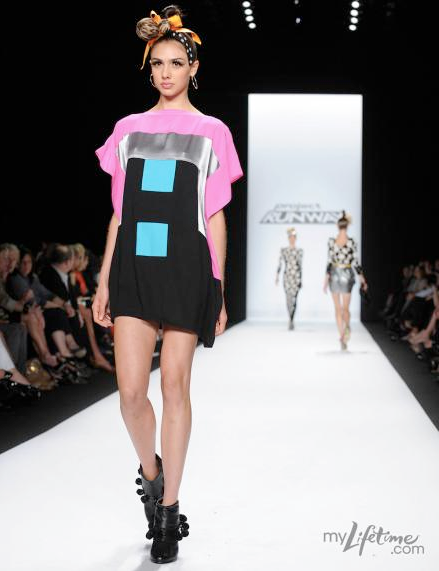 Okay - the Lady Miss Kier dress...what can I say about this? I'm not the biggest fan of it but it was very clear that Heidi loved it. In fact, her case for this dress was so strong that we were expecting her to run backstage, rip it off the model and come back to rub it in Kors' and Nina's faces!! I'm half expecting her to go to a red carpet even wearing it sometime soon. If she does, she's my shero
There you have it. The weirdest Project Runway finale I've experienced in a while. I'm not quite sure what else you can say about it - it's one of those things you have to see for yourself...
Until next season!
Love and kisses,
Katzi
S.L.Y.A.S.D.I.