I LOVE "reality" shows. More importantly, I ♥ "reality" shows when they're contests. Since
Rock of Love Bus
is over (Boo Taya! Ashley 4EVS!) and
Top Chef
ended quite some time ago, I've turned my full attention to
Make Me a Supermodel
.
I was all about Season 1 because of one
Casey Skinner
(a local!) and one
Ronnie Kroell
. Those boys were HOT. And I'm not talking about "Meh, they're dudes" hot. I'm talking about "Holy sweet Jesus they're fucking FIERCE" hot. Especially in their photos. I wonder if they've been signed to any agencies...They're both quite attractive men.
ANYWAYS - so, I was catching up on my MMASM yesterday and my boy
Colin
was in serious danger of going home. GASP! Not my Clark Kent! Not my Psychology and Neuroscience-studying, mild-mannered Colin! You know something deep, dark and mysterious is lurking under those glasses...even though he had the chance to let it shine in the 3-way challenge - which was incredible because he was
dressed as a sailor
(*GASP* Xs INFINITY) but he didn't really let it come out. That was the perfect time for him to make that life-altering decision: take off the glasses, rip the shirt off and reveal your "other personality". In his case, Superman. Superman is sexy, manly, mysterious, gets
ALL the ladies
and most of all, he's brave.
Now, I'm not saying Colin isn't brave, I'm just saying that I think that he'll bust out of his shell once he realizes that he's got the potential - like Tyson keeps telling him. And since he was in danger of being sent home, I think that might start the transformation process.
COLIN FTW!!!!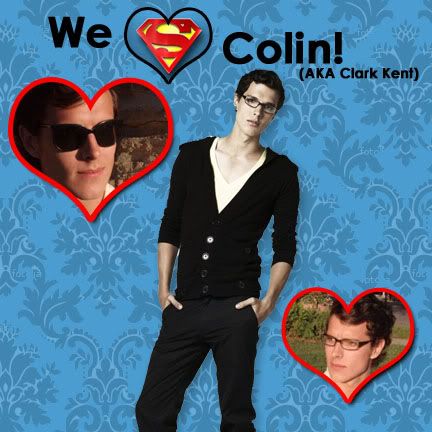 ♥
Katzi
S.L.Y.A.S.D.I.