It was the Fashion Week showdown last night and I can't help but be upset. Yes, even though Joshua was the first one picked to show at Fashion Week (congrats Joshua!!!), I'm still upset. Why? Hmmm...let me wonder...oh yeah - because Anya got a shitty critique and she still gets to go.
Yes folks, the "twist" was that all four of them will get to show at Fashion Week. Ugh...
The designers were given $9,000 and 5 weeks to make a 10 piece collection. Out of those 10 pieces, they had to pick 3 looks to show the judges to determine who would make it to Fashion Week. About half way through the episode it was clear they were all going so it was pretty much pointless watching the rest of it.
Onto the looks:
Here are Joshua's looks - which were an insane 180˚ from what he had shown Tim when Tim popped in for his l'il visit.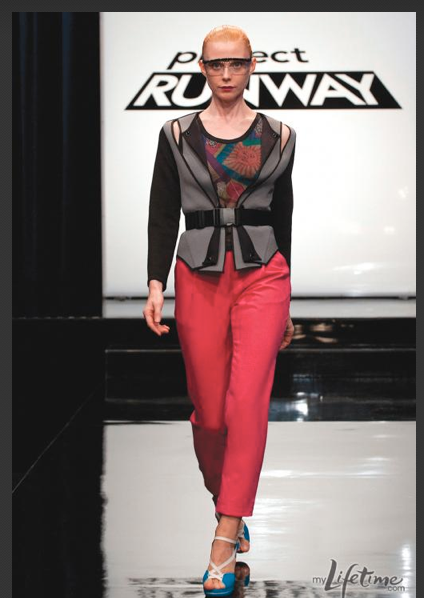 I'm not crazy about the goggles/glasses things but I do like the jacket. And I like the mesh over the print on the tank top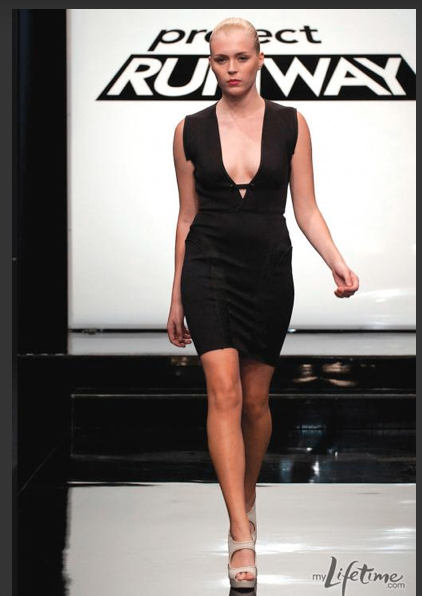 MK was hating on the "Modesty Tab" but you know what, some people
need
that Modesty Tab, MK. I think it's a cute little hint of bondage (since I know Joshua likes to add those elements to his looks)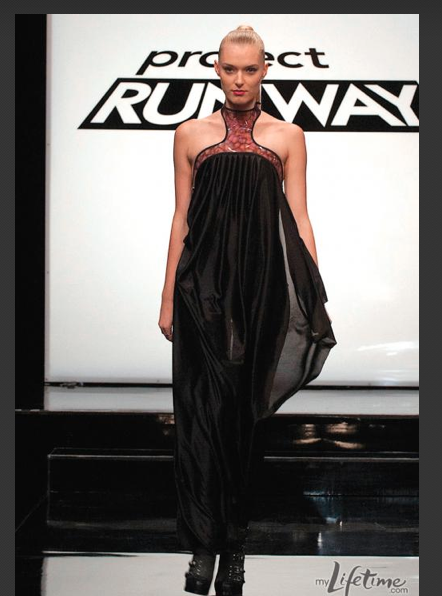 This look is one of those "great from the front but nightmare in the back" pieces. MK almost let out his signature yelp at the sight of the back of this catsuit thing but thank goodness he spared us. I will say that if Joshua tweaks this just enough for Fashion Week, it could actually look pretty great.
Onto Viktor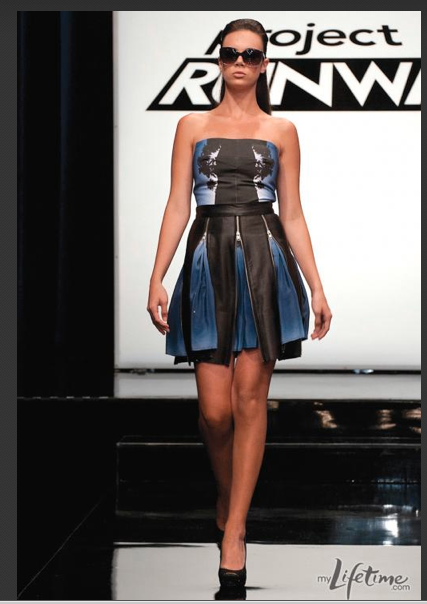 The judges weren't fond of the zippered leather pieces on the skirt but I LOVED it. I thought the print was great on its own, sure, but I really liked that leather detail. I felt like it added a little edge to the softness of the print
This top was great with all the mirror pieces. Great attention to detail. The jacket fit well and the pants had an interesting look that wasn't too distracting, I thought
Oh honeychild! That jacket! Even Joshua said: "That jacket is everything". We all love that damn jacket! Even Heidi had to try it on! It was a bit much over that pretty dress but DAMMIT that jacket is TIGHT AND RIGHT.
Up next: Kimberly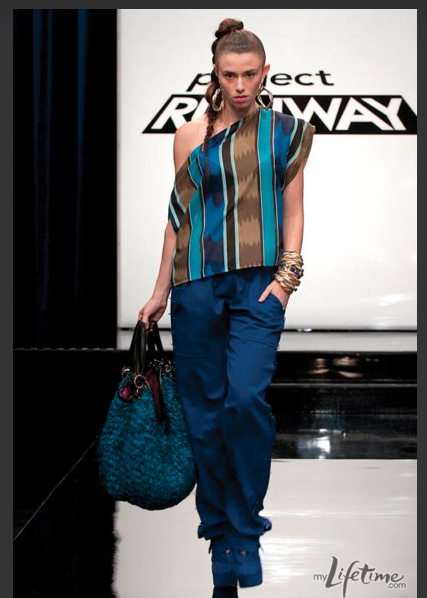 Kimberly took her styling tips from
Lady Sovereign
but at least Lady Sovereign looks good. Sorry Kimberly but this is not a good styling choice for you. You wanted Urban Chic but this missed the mark.
This skirt was KILLING me. The shape was all weird in the front and I HATED the back. This poor girl's ass looked worse than Joshua's catsuit ass. Yeah, I said it. And MK liked it. I can see why but, really, MK? Really?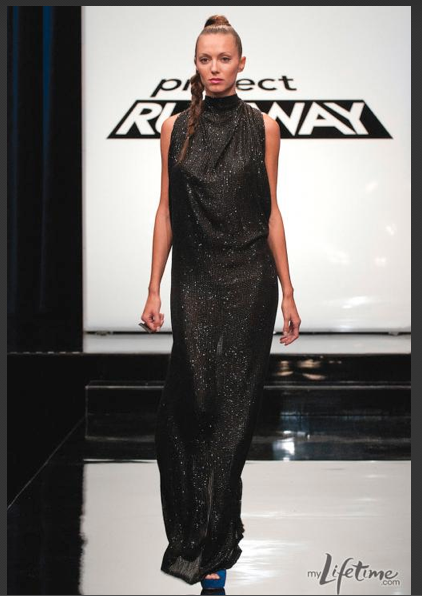 This is definitely not working for me. I like the dress but the Lady Sovereign styling is NOT right for this. It's just not complimentary at all. The gown was great but that side pony braid is not appropriate.
Finally, Anya's
The easy-breezy deep v that Anya is known for. Give me some fabric and I can make this damn dress too. Mine would need a Modesty Tab, though.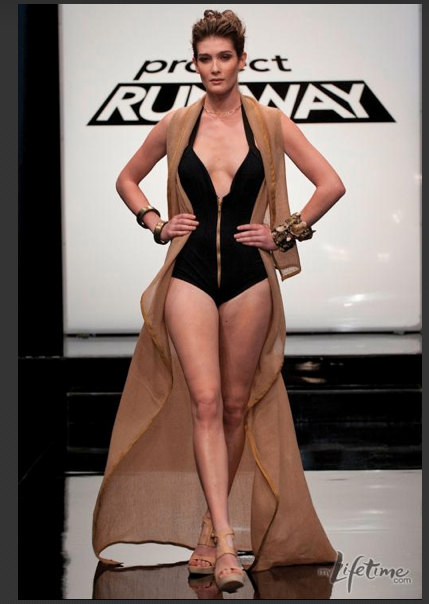 My beautiful season-long
model
crush was horrifyingly put into this ill-fitting bathing suit (which was reminiscent of
Wretched's granny panties
last season) and even the judges pointed out that this poor girl looked terrible. Makes me sad. But on the plus side - she looks gorgeous with her hair pulled back. WERK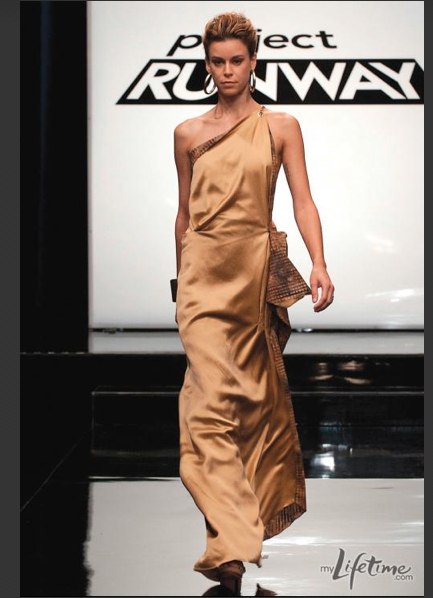 Ahhh - the gold dress. This golden disaster of a garment. If Anya's lack of sewing skills weren't apparent before, THIS is the garment that will show just how unskilled she is. It's gathered all wrong. There's puckers where there shouldn't be. It's a mess. And the judges HATED it.
Yes, the judges gave Anya the night's WORST critique but she still gets to show at Fashion Week. Ugh. Why?! I guess because she's pretty and Heidi isn't ready to move on yet. I don't know! Last night snapped me right of my
great mood
and put me right back into the terrible state of mind I've been trying to avoid all week. Oh well. Hopefully next week's finale party will bring back my faith in Project Runway but we'll have to wait until then!
Katzi
S.LY.A.S.D.I.