So...I had some ideas forming in my head about the "Katniss Wrap"
(that's what I'm calling it)
and the more I broke it down, the more I realized that it's not really knit - it looks more of like a woven or braided piece. Not to worry because I deconstructed it in the best way that I could: I talked it out on my car ride on my way home from work last night and on my way to work this morning. As soon as I got in, I printed out the
loveliest photo
of Jennifer Lawrence as Katniss
(from Captiol Couture)
and another that featured a
front-on shot
of the "Katniss Wrap" and sketched out my version.
Keep in mind that I'm a terrible illustrator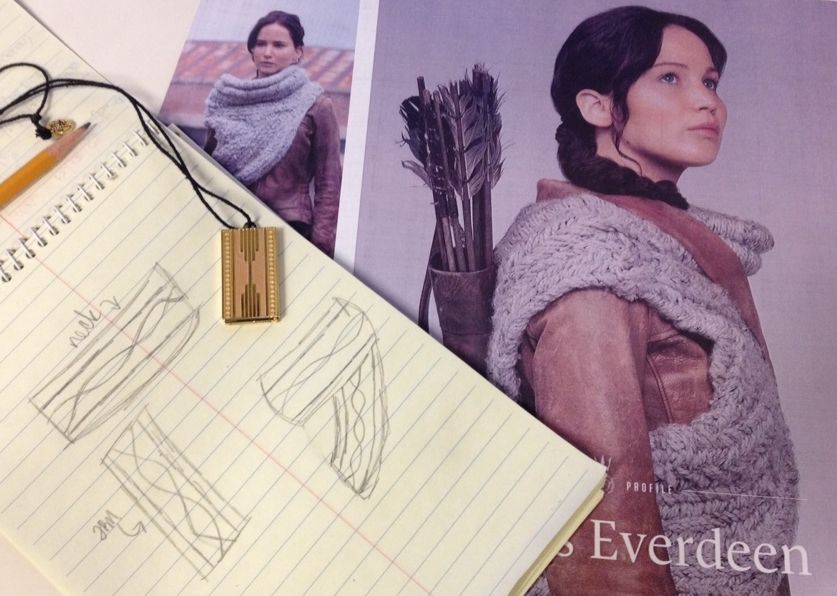 Do you like how I'm wearing Peeta's locket today?
I decided it would have to be constructed in two parts: the cowl neck and the arm piece. I love knitting in the round! I think it's a fun way to knit things up quickly and efficiently but because I felt like the neck piece needed some texture, I can't knit this one in the round because the texture I want is a able (or possibly two) and I'm not that confident in my cabling skills in the round just yet. I barely have enough patience for a single cable and here I am designing two flat pieces, each with cables. Go big or go hime, right?!
In case you can't see on my terrible illustration, the
cable is pretty basic
with the straight line representing a knit stitch all the way down on each side of the cable - which is the way I feel comfortable doing
cables
. So, the arm piece will be done in the same way - even though that's clearly NOT how it is in the photos.
In the photos, it looks like a very intense braided piece - which it very well could be since District 12-ers are pretty resourceful. I think I might be able to recreate the "weight" of it with a really chunky yarn and some large needles but I want there to be some play room for the cowl to be more relaxed than the arm piece. We'll see what comes off the needles since I don't ever swatch anything - I kinda just go.
The more I look at it, the more I think the neck piece could be the only cable part and maybe the arm piece could have some light ribbing on the sides and it could be two strands of yarn held together for a thick, basic knit, maybe? That'll give the arm piece the "tight braided" look and the cowl a more relaxed feel. And then the whole thing could be crocheted together with a basic chain from the inside or I could sew it with a large yarn needle? We'll see how I'm feeling when I get there - if I get there, that is. Sometimes, knit pieces get boring and I abandon them (like the countless scarves in my knitting bag) BUT this project seems short enough that I can make it during my time off during the holidays next week! Fingers crossed!
I'll be sure to post progress photos and
*try*
to write the best directions I can
(if it works out the way I want it to!)