While the sky was falling on Atlanta this weekend, I had the pleasure of catching up to my new favourite show:
Daisy of Love
.
I immediately fell in love with London - who made Daisy say "It's Daisy of Love, not I love Liquor!" And I also went googoo for Sinister (even though I don't know much about him). But the one guy that had me swooning the most was
Professor
. He left early (for boring Daisy to death, apparently). Professor was cute, quiet, shy and just wacky enough (stretched ear holes) for the show, I think. He balanced the heavy dose of CRAZY out nicely. Too bad...
One guy I wish would go home is
12 Pack
. Hmmm...let's see...where do you know him from? Oh that's right - I love New York and I Love Money. I think he's on Daisy of Love to be on TV, honestly. I mean, it's pretty freakin' obvious. But there was another familiar face on the show...
Big Rig
. The farmer / country boy. Why did he look familiar??? Then it hit me! Remember that VH1 show
America's Most Smartest Model
? Remember the crazy Russian, Andre? Big Rig totally reminded me of Andre.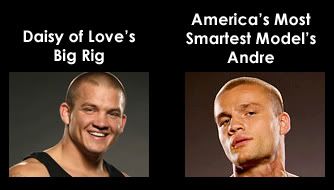 I'm sure they're not the same person, but damn it, they do look
similar
.
Anyways - I had a few thoughts concerning the contestants on the show and here they are:

Brooklyn and 12 Pack have got to go, in my honest opinion. They lack personality and I don't think Flipper sucked all the crazy out of the house when he left, I think he injected more in.
poor Triplets, too. All they wanted was free füd, free booze and free air time (probably).
And yes, I AM missing someone because VH1 didn't have his profile up at all! Who could it be, you ask? Why, the only black guy of course! What's up with that?!
♥
Katzi
S.L.Y.A.S.D.I.