I was listening to
NPR
this morning when I heard this commentary:
Keep Your Tweets to Yourself
by John Ridley. It made me think about the whole privacy thing for a moment but then I realized that Twitter is really just a way to spout out random things. It's like micro-blogging for the super
ADD
. You get 140 characters to do what? Share little snippets with people. Maybe a celebrity that will never @Reply you back. Maybe it's a cryptic message you're trying to send across. Maybe it's a way to
locate your friend at the Masquerade
. Or maybe it's a way to get things off your mind - whether they mean something or not.
Personally, I keep my Facebook status and Twitters separate because I use Twitter to say the things I don't really care to tell ALL my friends. And to send messages to celebrities that I know will NEVER @Reply me back. So, I agree and disagree with the commentary I heard this morning. It's like Twitter is the newest way to get "Internet Famous". Like, if you post something buzzworthy or something, everyone is talking about you. Whether it's a
Twitter War
or TwitPics or Twit-Whatevers, it's the newest way for "Common People" to have a voice to share with the world. So, if you don't agree with the newest internet fad where people are voluntarily giving random information about themselves/their current situations, don't fret! Another newer, better internet fad is on its way (I'm sure).
♥
Katzi
S.L.Y.A.S.D.I.
EDITOR'S NOTE:
Of course Kanye had to
ALL CAPS BLOG
about Twitter as well...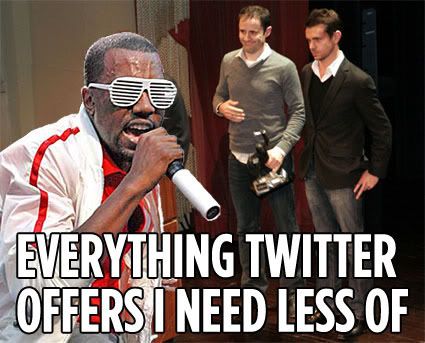 (
photo
via BuzzFeed)