It all started with an
article
on the
Kidrobot Kronikle
. The
Hipstamatic
, eh? What is all this then? $2? Sure, why not. Why not, indeed.
I use the Hipstamatic camera for everything. EVERYTHING. Passing by some
flowers
? Hipstamatic.
Strawberries and champagne
? Hipstamatic. Kidrobot
toys
? You guessed it. Hipstamatic!
It has replaced my regular iPhone camera for all photos. I have a
set
dedicated to all the Hipstamatic photos I've taken on my Flickr. It's great! It fooled one of Oni's friends, too. He had asked me about my Holga and when I told him it was an app for the iPhone, he got a little sad. Well, did you ever think something so digital could look so analog?
(Hipstamatic's slogan: Digital Photography Never Looked So Analog)
I didn't really think so unless it had some Photoshop mastery behind it, which made me a little sad because I had taken so many other photos with my regular iPhone camera that should have been taken with the Hipstamatic. But not to worry!
After joining a few Flickr pools dedicated to iPhone photography, I stumbled upon a user who used both
Camerabag
and
Lo-Mob
with her Hipstamatic photos. I had seen Camerabag and wasn't too sure of it but I did like what was happening with her photos using both Camerabag and Lo-Mob, so I downloaded them as well and spent most of last night treating my older photos with Lo-Mob. And I think I love Lo-Mob as much as I love Hipstamatic! It's so much fun!
I was never really one to experiment with photography much since I got out of school but now, it's great! I'm sure I sound like a freakin' iPhone app commercial or something but they really are great, especially for a photo novice like me. Well maybe "kind of novice" I guess. I'm not exactly the Photoshop master but I get by and I don't have to pay for my film to get developed - which is a MAJOR plus. So, I guess what I'm saying is that I'd like to thank the teams who brought these apps to life (and the many more I haven't discovered yet) to do all the "arty" work for us. Thank you developers!
Here's a taste: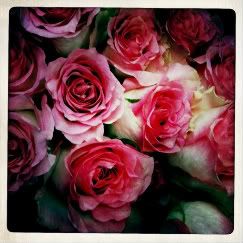 (PS - I shot those flowers at my local Target. That's right, Target)
Go to my Hipstamatic set on Flickr
here
!
I hope this year you find something that inspires you and gets your creative juices flowing! Don't stop believing!
Love and kisses,
Katzi
S.L.Y.A.S.D.I.