It was around 10pm on Saturday, January 15, 2011. I just so happened to be on Facebook when I saw that the
OMFG Atlanta
crew had posted an even with a NOH8 photo attached to it. I was intrigued, so I clicked on it and to my surprise, it was an event for the Atlanta NOH8 photo shoot that was happening the very next day! *gasp!*
I had been waiting FOREVER for
Adam Bouska
and crew to come to the Dirty South and do their famed NOH8 shoots. FOR-EH-VER. I even tried to convince my step-sister to got to the NYC one to represent our Moms. (She couldn't go because it was too short notice - Sorry!) So when I saw that Bouska and crew would be in town, all my Sunday plans flew out the window! (Sorry S.S.!)
My old man offered to drive me down and I convinced him to leave the house super early so that we wouldn't be there all day (which we were anyway) and it was total chaos! 30 minutes after we arrived, people started pouring in! It was amazing! Waiting around was kind of boring and I kind of wish my old man had something else to do instead of wait around for me...
I waited patiently to get my temporary face tattoo (and got cut in front of by "VIPs" numerous times) and I quietly waited to get photographed. I think I was being checked out by a few ladies - which was nice, I'll admit - and I saw a whole hell of a lot of cute boys! *_* There was also a group of nuns that were pretty much the highlight of the whole thing!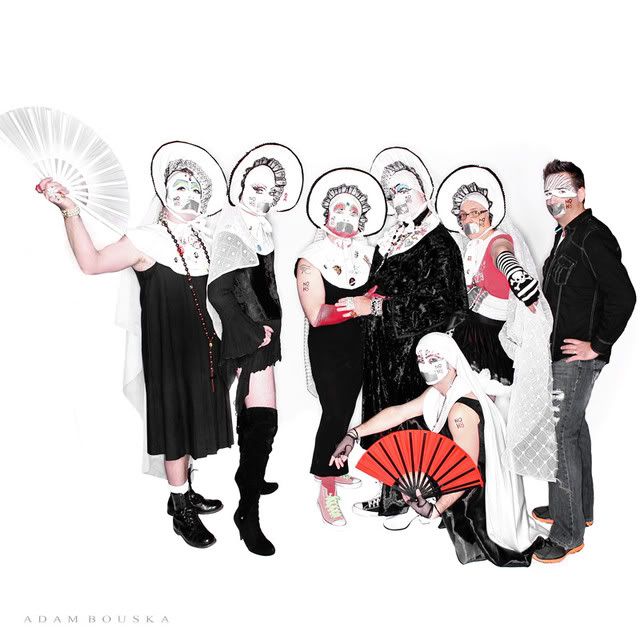 (Here they are getting tattooed and interviewed)
After my group was called, I patiently waited in yet another line that barely moved. BUT we got to see Real housewife of Atlanta
Cynthia and her husband Peter
- who snuck away like they were
huge
celebrities or something...got held up by more "VIPs" (that seemed to be the theme, unfortunately) and finally, it was time!
I waited my turn, taking off my glasses and tucked them in my purse. Then I had a few thoughts of how to make my photo better: I should've brought my protest sign that I made a few years back that read "Let my two Moms get married!", "I should've borrowed those handcuffs on the table back there...", "I should've done drag queen makeup instead", etc...
Shoulda, woulda, coulda. I was there alone, representing my Moms and that was good enough.
I walked across the white paper, threw my purse down and followed gentle Adam's directions while he complimented me on my hair. Good thing I had
just
dyed it that morning!
That particular colour incarnation is Manic Panic Hot Hot Pink over older Manic Panic Pillarbox Red. It's currently Splat Fetish Pink...And my makeup choice was obviously a purple smoky eye - Spirit Day + Gay Pride!
I followed his directions while he shot a maximum of 10 shots and then...sadly, it was all over. I ripped the duct tape off my mouth, thanked Adam for the opportunity and was on my merry way.
Overall, I had a good time. I definitely saw some ATLiens I had never seen before so it was nice. But the best thing about it all is that I have something else to add to my growing collection of support for my Moms. I'm still waiting for the day that they plan their wedding!
Check out the NOH8 gallery HERE

Check out Mark and Stephanie (from OMFG Atlanta) HERE
Love and kisses,
Katzi
S.L.Y.A.S.D.I.