Anyone who knows me in person knows that I've been trying to get my hair pink.
It all started with The Real Housewives of Atlanta.
Yes, it sounds crazy but it's true. My favourite housewife Kandi had this really pretty reddish colour on the top of her head and I said to myself, "I want that", so I went to the nearest Sally's, got some 40VOL bleach and Manic Panic's Pillarbox Red - thinking it was the least offensive colour I could put in. But I started in the wrong place: my bangs.
I called these my "
Rogue
Stripes"
After I was all bleached and dyed, I was taken back to the 90's when EVERYONE was dyeing their bangs. Ugh. It looked cute but...it's not the freakin' 90's anymore! So I went back to the lab
(aka the bathroom)
and bleached out the rest of the top of my head. Boy did that come out strange. My hair bleaches funky, too. It never really bleaches out yellow-blond, it always comes out orange. What's a girl to do?! Cover it with more dye! This time, I bit the bullet and bought Manic Panic's Hot Hot Pink. But for some reason, my mind kept telling me not to buy it but I couldn't remember why...until I watched a majority of the colour I had just put in my hair wash down the drain - my hair and Manic Panic DO NOT get along.
So I was stuck. Stuck with having to dye my hair every week or so with runny Manic Panic.
Then, a lovely pink-haired goddess appeared on my Tumblr dash. Model/tattoo artist/ painter/makeup artist and all-around sweetheart
Kelly Eden
.
Her hair was THE glorious pink that had been eluding me since I was 15 years old. How? How did she do it?
Not only is she super talented but she's a sweetheart! Ask her any question and she'll help you out as best as she can. She ended up as my main inspiration for my hair colour.
Through the loved and hated "Ask" feature on Tumblr, Kelly is sweet enough to answer tons of questions about her art, hair and lifestyle. I keep a tight watch on her "Asks" because that's where I get most of my information about how to maintain and manage this kind of hair. I know that makes me sound creepy but don't judge me! If I had been left to my own searches, I wouldn't be as productive. Thankfully, Kelly is kind enough to share her wonderful hair secrets - which not a lot of people are happy to do, surprisingly enough - and because of her, I know what to look for, how to keep it pretty and what to ask when I pop into my local Sally's.
So the task became: what do I do to get my colour evened out? I stupidly went and bleached more of my hair and all it did was damage it so I buckled down and made an appointment at the Paul Mitchell School in Atlanta.
Why a hair school? A few reasons:
1. The girl who used to cut my hair at Toni & Guy graduated from PM
2. Onisha suggested Vidal Sassoon hair school but PM kept popping up in all my searches
3. Why not a hair school? They'll be supervised by teachers
4. It's cheap!
So I made the appointment and made sure I said, "My hair is really damaged and it's a really uneven reddish orange brownish mess". Unphased, the girl on the other end made my appointment and that was that.
When I showed up on Saturday, I got a weird look from unsuspecting Emily. She seemed okay with it until I said I wanted to try solid pink again but if not, we could go black. Dallas, her Learning Leader, convinced me to go pink. "By the end of the day, we'll have you walking out of here looking like Nicki Minaj!" So I said go for it! The only bleach that was happening was my roots - under the advice of another Learning Leader (I'm sorry I forgot her name), she didn't try to even out my poorly done bleach job. She said the dye would cover it all - which was fine by me.
While I sat at Emily's station letting the bleach lift the colour off my roots, I felt like I was getting weird looks from students walking by. I mean, my hair did look like it was on fire with all the reds and oranges but Dallas kept checking in and reassuring me by announcing that Nicki Minaj would be arriving soon!
As it got closer and closer to washing the bleach out, Dallas walked by and placed a bottle of Ink Works Hot Pink on the corner of the counter. Emily and I were excited. It was pretty saturated. It reminded me of Manic Panic's Hot Hot Pink - which I knew I already loved.
Then it was application time. During this process, I realized I was undergoing a transformation I hadn't thought about since my teenage years - I was going to have hair like my most favourite Anime character: Washu from a show called Tenchi Muyo!
I have been infatuated with little Washu FOREVER and I can't believe that I totally forgot about her until Emily was painting my hair. Then we started talking about Anime characters and how maybe that's what I should do on the weekend - Cosplay Washu, Jesse (from Pokemon) and another character from Pokemon that I already dressed up as before: Nurse Joy!

Perfect!
At that point, people were gawking. The most popular question was: "Where do you work? Are they okay with your hair that
bright
?!" And as soon as I said "Video editor" it was pretty clear that I was in the same artistic vein as them - which was great. Everyone was wonderful and super supportive. Apparently not a lot of people come to the school with crazy requests. Except for this one girl who requested an Anime-inspired hairdo for Dragon*Con last year...
Nicki had almost arrived - and everyone was excited to see the result. After a nice warm 15 minutes under the dryer and an extra 10 to cool down, it was time to rinse out the dye.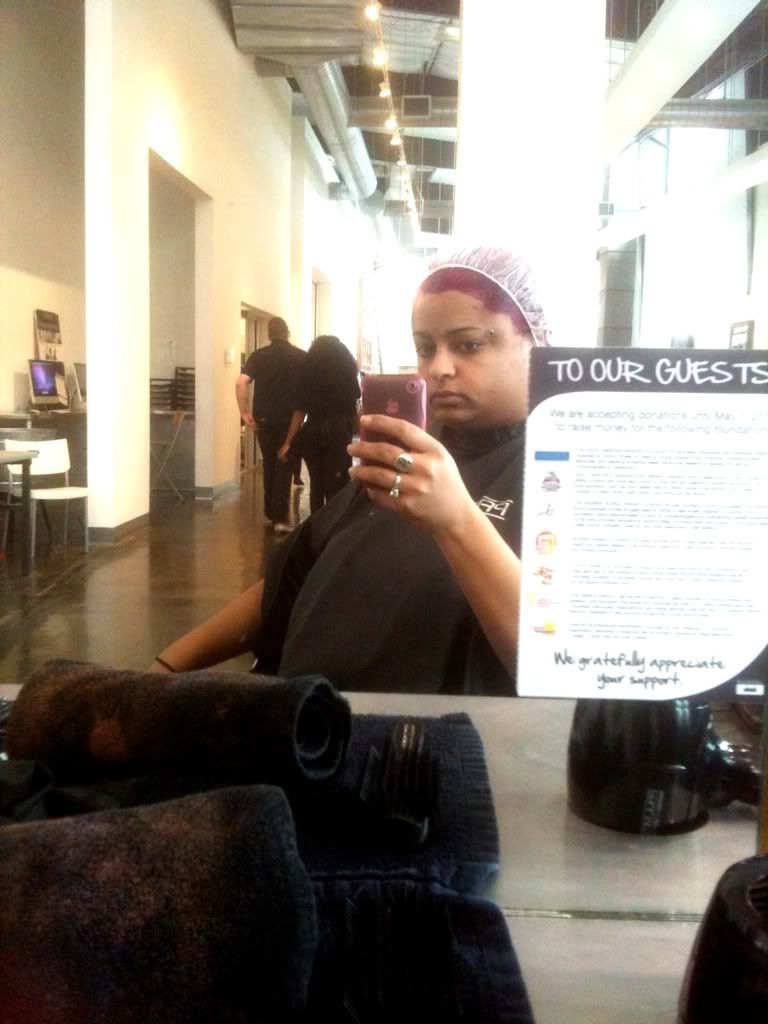 People at the sinks were "oooh-ing" and "aaah-ing". "It's so bright!" "It's so pretty!" "Great job Emily!" was all I could hear from under the freezing cold water. I couldn't wait to sit back at her station!! The moment of truth...ta-da! It was beautiful! The colour totally reminded me of MP's Hot Hot Pink but better and brighter! I couldn't wait for her to blow dry my hair! Emily kept saying it reminded her of Barbie hair and I could totally see it - it was super girly and super pink! Success!
After many years of trying (and ruining my hair), I finally learned how to maintain healthy pink hair and I gave in to going somewhere and having it done! And it looks amazing! Emily did a fantastic job and was a total doll throughout the entire 5 hour process! That plus the help of Kelly Eden will help me maintain this glorious hair! And because I've learned my lesson, I'll be going to the Paul Mitchell School to touch up my roots.
I try to be self-sufficient and try to keep my costs down but I learned the hard way that if I want pretty pink hair, I'm going to have to spend some money - and that's okay. So keep that in mind if you're going to change your look drastically. Do your research, ask around and don't be afraid to spend a little bit of money - it will all be worth it!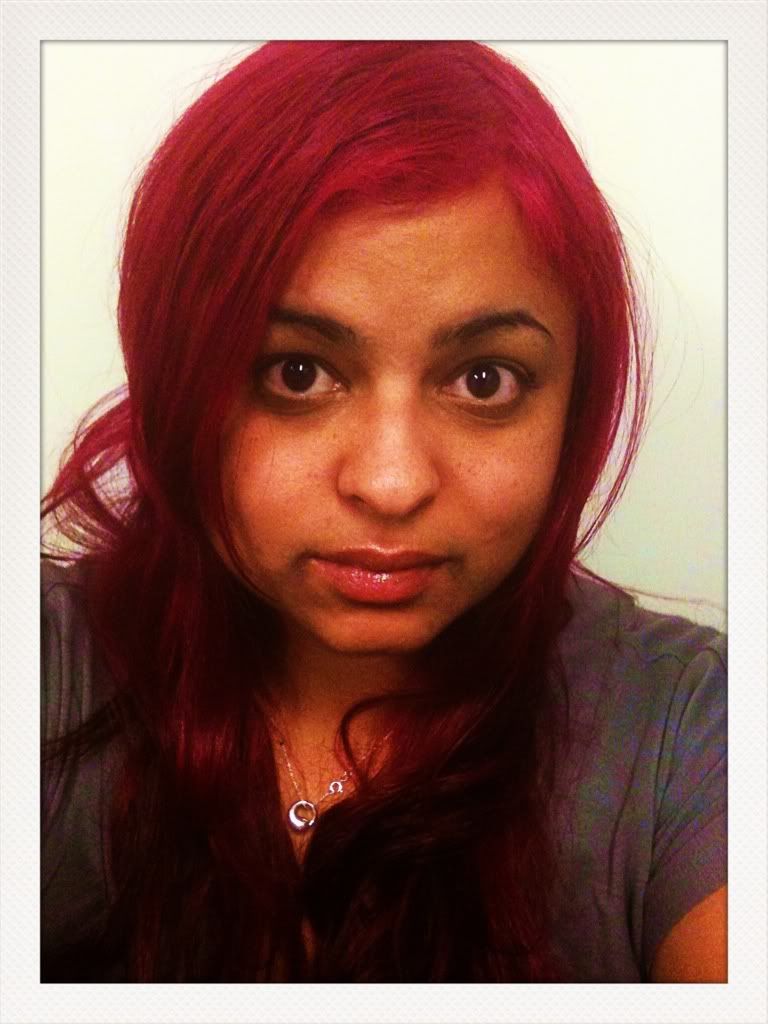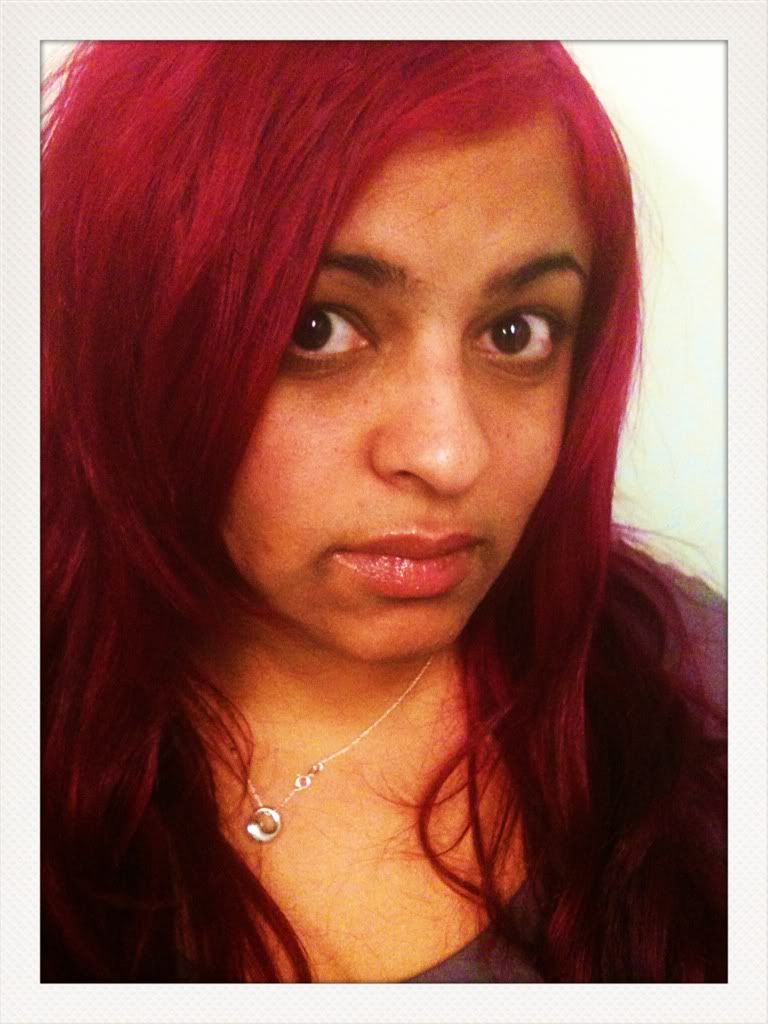 I think that after a few washes, it will be a light and pretty pink. Right now, it's a heavily saturated (and beautiful) magenta. No complaints here! I LOVE IT!!
Love and kisses,
Katzi
S.L.Y.A.S.D.I.
Inspiration sites:
Kelly Eden
Raquel Reed
FY Crayon Hair
More Pink Please
Mrs. Donut