A few months back, I accompanied
Lauren
and her friend Cynthia to
Young Blood Gallery and Boutique
for the first time. I had been interested in it since I had heard about the the Young Blood gals a few years back during my
first
two
I.C.E.
shows. While I was there, I was looking for an interesting piece to take home to my old man but I couldn't really find anything that caught my fancy - until I started checking out the sale bin.
After going through a few pieces and thinking about giving up, I saw the piece that made my jaw drop.
I instantly fell in love with the piece but I didn't know who the artist was. I didn't think I would ever find out who the artist was...until I was walking around yesterday's Indie Craft Experience with my Dad.
My Dad's gf is really into local artists and handmade items and my Dad likes to indulge us by going with us to both I.C.E. shows almost every year, so it was only natural that he joined us yesterday. While my Dad and I walked around, I noticed a very small booth with great looking artwork. I stopped to check them out and get some post cards - and then I SAW IT. I saw the painting above (it's called
"Cocquette"
and you can buy it
here
). I flipped out! And there she was - Kelly McKernan - sitting in the middle of all her amazing artwork! Of course I had a total fan girl moment and told her that I fell in love with "Cocquette" and I felt bad that I didn't know who the artist was and how I was so happy to finally know who it was AND that I got to meet her! She was so sweet! And her other artwork was AMAZING. Needless to say, I bought 5 postcards (including the postcard version of "Cocquette" to give to my step-sister) so that I could frame them in my house.
This one took my breath away: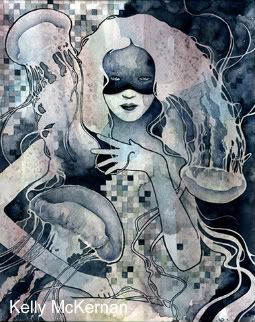 "Redemption"
But it was this one that I absolutely fell in love with: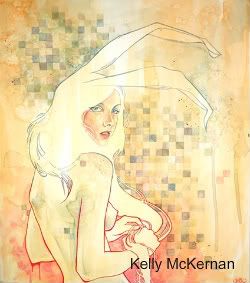 "Coy"
AND I was so happy to see that it was woman painting all these lovely prints! But that got me thinking...
...What if I commissioned a piece from Kelly herself and had
Only You Tattoo
's Matt Greenhalgh tattoo it on me?! That would be the best artist combination EVER!!! I'm so inspired! We'll see... I'll have to come up with an idea first...or maybe I'll get the print that started it all? Or maybe the lovely lady from the
"Coy"
print? There's so many lovely ladies to choose from, I'll have to think on that for a moment...
Until then, please check out Kelly's work on
her website
, be sure to
buy a few prints
and, if you're in the ATL area, be sure to catch her at one of her
upcoming shows
.
Also, don't forget to check out Matt Greenhalgh and the Only You Tattoo Crew
here
!
These artists will totally get your creative juices flowing for some DIY goodness this summer
Love and kisses,
Katzi
S.L.Y.A.S.D.I.