All right - with the unmentionable success of
Operation: On a Boat
, me and my fellow N.A.P. friends decided to take FULL advantage of Tom leaving early yesterday by making
another desktop masterpiece
dubbed "Operation: Ghost Ship". We weren't sure what route we were going to take it because the
enthusiastic gentlemen
that graced the boat last time weren't really received well by Tom. What's a girl to do??? Unicorns maybe? Nah - too "Jonathan".
So we gazed long and hard (about 30 seconds) at the other desktop scene from Tom's trip to wine country in CA and decided to have an epic pirate battle. Okay, maybe not
epic
but we wanted to keep with the boat theme. I originally wanted a T-Rex popping out of the water for no reason at all, right? Awesome! But I didn't feel like cutting out a T-Rex because I knew
I had one
back at my office. So, I thought about that jumping shark from
Planet Earth
and wondered if I could Google a
breaching shark
. Like a gift from the Gods,
there it was
, in all its glory! So, Larry said to put a ship somewhere in the picture. Immediately, I thought of a pirate ship. Of course! And then Larry sent me another ship to which we decided they were going to have an epic battle! But I didn't feel like Photoshopping that much stuff. So I said shark, pirate ship,
ghost
pirate ship and what else???? Thank the lord for Marior (aka Cupcake, from now on) because Marior said, "Hey, why don't you put a unicorn bucking on that cliff?" FUCKING GENIUS. So, I found the most retarded one (and the one that would take the least amount of work) and made it happen.
But in the early stages of me Photoshopping this masterpiece, I recieved a text from Tom that said (I kid you NOT): "Stop fucking with my computer!" I assured him we were nowhere near his computer, which fueled the masterpiece even more. The goal was to be subtle but awesome. And I think it worked out nicely.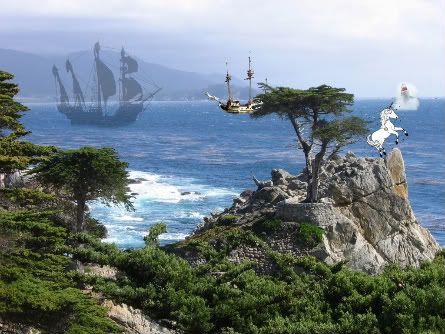 ♥
Katzi
S.L.Y.A.S.D.I.