Starz is great. First they came out with the bloody and extremely epic
Spartacus: Blood and Sand
. The show was sort of comical, in the trying to capture the spirit of
300
kind of way, BUT it brought out the secret blood lust in me. The desire to watch scantily clad men fight each other to the death was high. And having a sexy cast didn't hurt either.
Lucy Lawless was amazing as Lucretia, Andy Whitfield was incredible as Spartacus and Manu Bennet was swoon-worthy as the Champion of Caupa, Crixus. Everyone else was wonderful, too. I can't forget the rest of the amazing cast Spartacus had but there was one thing that hurt the production of the second season and that was the illness Andy Whitfield was battling:
non-Hodgkins Lymphoma
. I'll admit, the compromise pre-quel season 2,
Spartacus: Gods of the Arena
was a little hard to watch since Andy Whitfield was not included at all and it seems as though Andy Whitfield has
passed the torch to Liam McIntyre
as the new Spartacus. While
Spartacus: Gods of the Arena
was still epic and bloodier and sexier than ever, I still missed Sparty himself - even though Gannicus had won me over by the season's end.
With all that going on, I understand Spartacus can't be the same without Andy Whitfield but I would much rather him rest and fight the good fight and make it through before he over-works himself. I am getting excited because
Katrina Law is tweeting
about behind the scenes antics on the set of Spartacus and she has said that Liam McIntyre will be joining her and other members of the cast at Comic Con this year! YES!! I kinda wish I was going
(to see Manu Bennett up close and personal)
.
But there was a void. A blood thirsty void that Spartacus left. It needed to be filled and Starz' other original show,
Camelot
, fit that bill perfectly.
While
Camelot
wasn't as bloody or
as
full of nakedness as Spartacus, Camelot was - for the lack of a better phrase - FUCKING AWESOME. I've seen the Merlin tv movie, I've seen
most
of the King Arthur movies (not Russel Crowe one though...), I've read the books (a long time ago but still) and I LOVE the Arthurian legend. Camelot captured what all the other tv movies and regular movies couldn't.
Camelot's cast was gorgeous too. Jamie Campbell Bower - abandoning his seat with the Volturi to become the boy king and the always flawless Eva Green - showcasing her smoldering sultry-ness as Morgan Pendragon. Those two alone were enough for me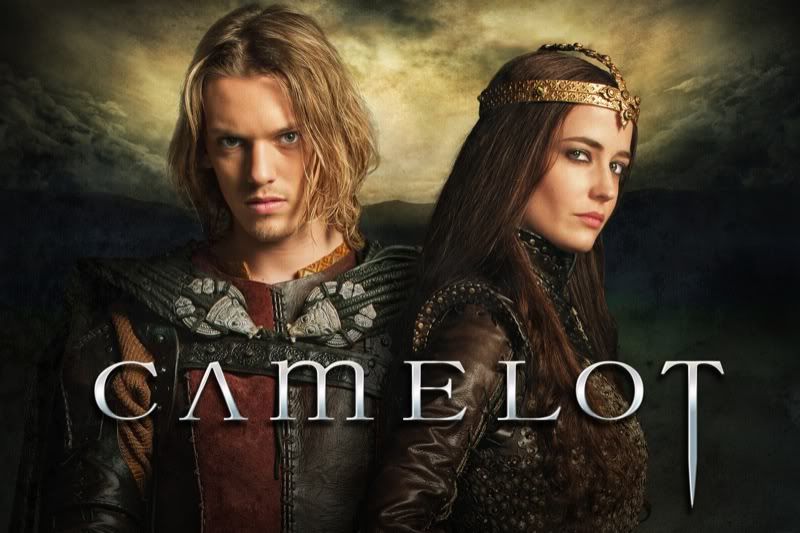 I mean, look at them! Gorgeous, young, talented, badass...And then Starz had to throw in Joseph Fiennes as an even more badass version of Merlin
And on top of
THAT
, Starz had to throw in
Clive Standen
as Gawain, a warrior living on the outskirts of Camelot who gets recruited as one of the King's men.
We liked to refer to Gawain as the "Andrew WK of Camelot".
Le swoon
Besides the insanely sexy cast, Camelot reignited the Arthurian legend in me.While I remember key bits and pieces from the legend,
Camelot
made them that much more entertaining. Especially the Lady of the Lake story and the sword in the stone. Both are familiar stories but
Camelot
gave them the Starz twist. Not to mention the "killing" of Morgan Pendragon and the "birth" of Morgan le Fay. But one thing was missing: Lancelot. Sure, Leontes was
like
the Lancelot we all know but his story was downright awesome. And they kind of left it open for season 2 as they were putting together the legendary "round table" that Lancelot would be coming.
But alas,
Camelot will NOT be picked up for a second season
. WHY STARZ WHY???!?!?! Don't wimp out because of
Game of Thrones
or ratings. You have what those shows don't have: Accessability to MORE viewers via Netflix Instant after the season has ended. I'm sure a TON of viewers have been watching via Netflix Instant (including me). Is there no way to monitor those views? I read (
here
) that one of the challenges of filming
Camelot
is conflicting schedules with the cast but you know what, if viewers can wait forever for
Spartacus
, we can wait forever for Camelot. We don't want to but we will. I know I will. I love
Camelot
and I want more. LOTS MORE. I want to see the story progress with all the characters we all know and love. And I want the introduction to Lancelot and the Knights of the Round Table! Give it to me, Starz! Why would you let the season end in such a cliffhanger and then not renew it?!?!?!
I am truly devastated.
I guess I'll just have to re-watch season 1 on Netflix Instant. And stare at this Gawain gif forever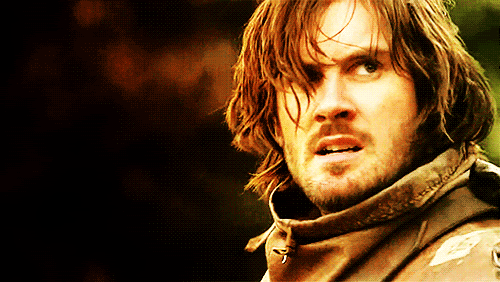 This gif lives here
Katzi
S.L.Y.A.S.D.I.