9am: Call from B-Money letting me know that he was my ♥Valentine♥ and
headed to ATL tonight after his last appointment at the salon...thank
god!!! He continued by telling me about how he wonders if girls are
late to their pap smears like they are to hair appointments...

Oh yes my baby is back
!!!
We will be hitting various gay nightclubs tonight
in his honor...my handbag full of rainbows!!!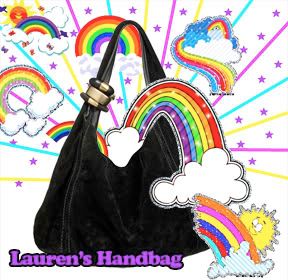 10am: Get off the phone and I am asked by my
"Future Ex-Boyfriend"
if I
had refered to him as my boyfriend to my #1 gay on the phone ... I told
him I was nauseous and that I cringe at the thought of titles...
So no Mr. you are

NOT

my boyfriend...

NEXT!!!
11am: Still nauseous
12pm: Party planning in full effect Mr. Not-So-Much-Boyfriend leaves
after I blab about my commitment issues for the last hour....thank
god!!!
1pm: Wardrobe planning
To be continued . . .
♥
Lauren
S.L.Y.A.S.D.I.