With all the hype concerning Comic Con this year, I'm trying to stay on top of all the... *ahem*
New Moon
stuff. I know, I know, I'm a total
Twi-hard
, it's true. (It's all Oni's fault, btw.)
But anyways, I've been a little
distracted
at work as of late and the only thing that really eases me is
tumbling
through the internets and seeing what's happening. Thanks to some of the tumblrs I follow, I'm getting caught up in all the New Moon Comic Con stuff - which led me to the actual
New Moon
site today. Holy shit girl, hold my drink! This site rules! Enter the house of Cullen for this beautiful masterpiece: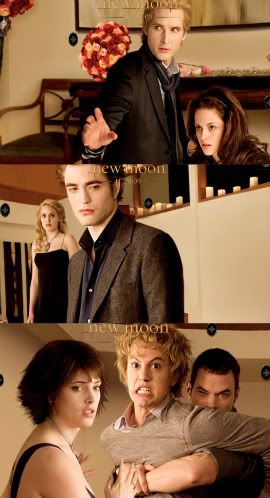 (Larger version)
I fell in love with Jasper's
face
. I mean, everything about Alice, Jasper and Emmet is beautiful. And Edward's pain and disappointment. Even Carlise's calm but disturbed look is just so...wonderful to me. I always wondered about that scene when I was reading the book and now, here it is. And what's crazy is that the site spins you around this room over and over and over. You can't stop. It's great. And then you can take a trip to La Push where it spins you around there too. I ♥ it!!! It's just making me even more ravenous for the damn movie to come out. I can't wait! It's going to be awesome!
Okay, okay, that's enough fan-girl shit today. I just thought I'd share the birthday scene screen caps I did of the home page. BTW, the little
Cullen crests
next to everyone pulls up a little bio of their characters. It's cute. Check it out so we can squeal about it together! Tee hee!
♥
Katzi
S.L.Y.A.S.D.I.