Last night, Elena and Dmitry's dreams came true: they had a baby! Just kidding. They ALL had babies! Our Top Six had the pleasure of designing baby outfits for Heidi's line at Babies R Us -
Truly Scrumptious
. Oh baby! (I can't stop) But wait! There was a TWIST - the designers had to run around that first day and night with one of those creepy crying babies that kids get in Home Ec nowadays. Phew - I'm glad I dodged that bullet! But besides that, the ACTUAL TWIST was that they had to design companion outfits for the moms of the babies they were designing for.
GUH
I say that because the mother that Christopher was working with was a super diva. Not only did Christopher have conflicting feedback with Heidi and the mom but he had to design for both ladies, knowing that Heidi's opinion mattered more. Talk about between a rock and a hard place! Good thing he was able to turn it into a serious Make It Work moment - all the way to a win for the girl clothes!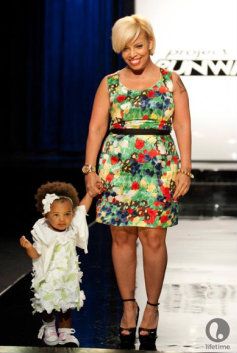 So cute! These lovely ladies looked like they were ready for church or brunch or both! At first, I wasn't crazy about the fabric on the baby dress with all those flowers and leaves but I kept having to remind myself that it was a baby challenge. It's cute for babies.
Dmitry was not enjoying his time with his fake baby but he did give it a name: Brandon. Aww. He also said that designing for babies is like designing for a cat because they can't talk. Ummm, yeah, they're totally the same thing.
This totally screamed "Super cute European Baby" to me. It reminded me of the cool, quirky baby clothes my cousins were dressed in when they were babies...in Paris. It also reminded me of David the Gnome.
Either way, it was still cute and I loved how Michael Kors was totally confused by the zippered hood that unzipped into a cape-like thing. Didn't they have jackets like that in the 70s? Yes they did because I have one.
Melissa must've taken a cue from Sonjia this week because she phoned it in BIG TIME. She asked the baby's mom to sew buttons on. Who does that?! Tim had to go into the sewing room and kick her out to make it to the runway in time. I mean, she really dropped the ball.
The mom's outfit was awful and the baby's outfit was so boring. I bet that's why Dmitry's baby kept falling asleep - he was
that
bored by Melissa's outfits. I wish she had been sent home instead of everyone's favourite Bitch Supreme - Ugh...Elena.
Yes, it's true, Elena was eliminated last night and that made me very very sad. While Michael Kors said it looked like a "baby sample sale", it was streets ahead of Melissa's.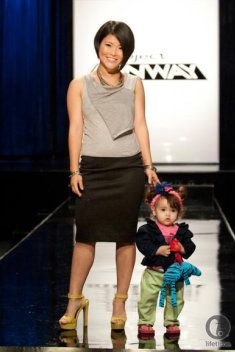 Yes, she seemed to focus more on the cute jacket than the rest of the outfit and, yes, the qppliqués on the jacket killed me, I still preferred this look over Melissa. Honestly, I don't think the judges wanted to see outfit after outfit with giant shoulder pads walking down the runway for Fashion Week.
Personally, Fabio had my pick for the boy's winner last night. What he made was super cute, extremely functional and he kept it playful.
He incorporated subtle hints of Heidi's monster-themed fabric, which was such a nice touch and the fact that he made a hat?! LOVE IT! The outfit on the mom was cute too! They were perfect little companion looks that were fantastic. I think he was the only one who channeled whimsy and the cuteness of kids into his whole look. Fabio was definitely robbed last night.
Robbed by who? Sonjia. She started in the right place with that cute blazer but I felt that the rest of the outfit didn't come together as successfully as they made it out to.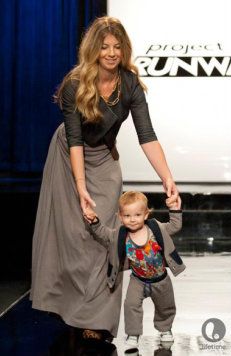 I did enjoy the jacket but I thought the pants and the tank were bringing the whole thing down. And trust me when I say No Tea, No Shade but - when I first saw the tank, I immediately thought: "Oh, it looks like one of Joshua McKinley's tanks shrank in the wash and Sonjia picked it up for her baby's outfit. You have to admit, it's a pretty abstract colour / design combo from afar so, how can you NOT see that? I think the whole thing would've worked better as separates but hey, I'm not a judge.
Also...this happened last night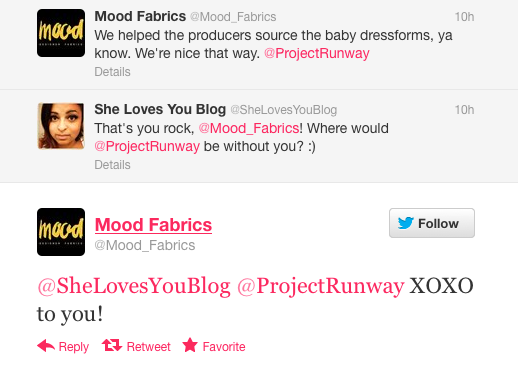 I got a Tweet shout out from Mood! How does that play into the drinking game? One drink for when you hear "Thank you, Mood" but what happens when Mood thanks you?! Gah!! Fangirling hard core!
All I will say about next week is: AVANT-GARDE CHALLENGE!
I can't wait! Too bad we'll be missing Elena's giant shoulder and Gunnar's half-leather creations. BUT we will have Fabio and Dmitry's insane creativity so I cannot wait!! Not saying that I don't think everyone else will excel but I'm just saying I'm most excited about those two! It's going to be awesome!!