Can Dmitry and Elena get married and have babies already? I mean, come on! There no shortage of drama and antics with these two. How did we get here? Why...another team challenge! The dreaded Button Bag reared its ugly head and Dmitry and Elena subjected poor Alicia to their couple-style arguing but more on that later.
This week our designers had to dabble in the arts and crafts world. I was kind of expecting to hear, "Ermahgerd, I'm a high fashion designer, not an art teacher" but there was more scoffing and groaning than sweeping declarations. The designers were sent out to the streets of New York armed with their custom made totes, tees and stuff to raise the money they would take with them to Mood for materials for a two-piece Fall collection.
The teams were as follows:
Christopher (immunity) / Sonjia / Gunnar
Dmitry / Elena / Alicia
Ven / Melissa / Fabio
I thought pairing Melissa and Fabio was smart because their style is a little similar and their different points of view mesh really well together. Ven was a disaster up in there. He was cramping their street style aesthetic.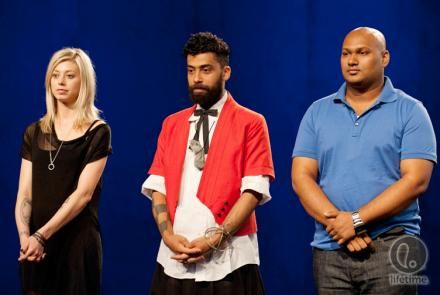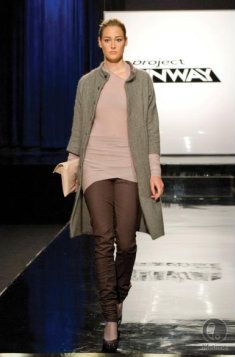 While I thought this collab was cute, I wasn't crazy about the shirt and Ven's ugly skirt. I know what you're thinking: What happened to the petals? Oh, Tim Gunn himself shot that shit down. He advised Ven turn off the petals because it was cramping Fabio and Melissa's street style look. I definitely was happy to hear that. This collection looked okay but the colour choice was a little too Spring for me. I know they were trying to bring Summer colours to help it transition into Fall but it didn't quite work out. I did enjoy the styling of the model on the left with the socks and heels. I wish I could pull that off because the girl looks FABS.
Dmitry and Elena's love-fest didn't really help their team out and poor Alicia was in the middle of that mess and she ultimately paid the price by getting Auf'd.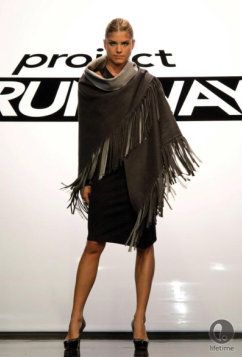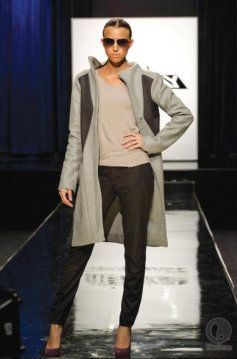 Christopher brought up a great point. Wait - was it Gunnar? Either way, one of those two brought up a great point. They said that Dmitry has been crying to make some outerwear - which was one of the pieces they needed but what did Dmitry make? Oh, you know, another one of his pretty dresses. Oh wait - you can't see it because he made a last-minute old lady shawl thing to cover up his beautiful work. Elena struggled to make a well-fitting jacket and she bossed Alicia into making the pants that got her sent home. What was more surprising was that Elena drove the bus all over Dmitry and Alicia when Heidi asked about their looks. Elena claimed Dmitry was the bossy one and she didn't think the work was divided evenly between them. I don't know where all that was coming from since Elena was the one that was bossing everyone around - LIKE SHE ALWAYS DOES. Poor Alicia, too. She's not one for confrontation so it was obvious that this was the vehicle (no pun intended with the under zee bus comment) to get rid of her. Sorry boo.
Christopher and Gunnar managed to bury the hatchet and they worked so well together that I was totally expecting more of a love-fest than what we saw. They were so cute! Even when Gunnar called Christopher's vest a "Legends of Zelda" vest. Priceless. I'm glad that went in another direction because I was a little concerned when I saw Christopher fitting that piece. Or maybe it was Sonjia's. I don't remember. My notes say Christopher. See - this is what happens when I can't write my recaps on Fridays! I forget EVERYTHING!
Gunnar made both the dresses in these looks and I will say it: GUNNAR WAS ROBBED this week! Sonjia got the win for making the jacket on the left. WHY??? That jacket would have been garbage without Gunnar's gorgeous dress. The same goes for Christopher's jacket on the right. That jacket is tight but the sleeves on that dress MAKE IT.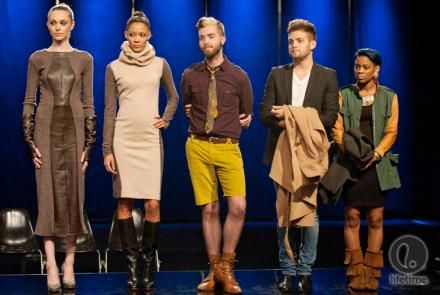 Ugh. Gunnar was SO ROBBED! His dresses were AMAZEBALLS. I get the whole structured thing that the judges liked about Sonjia's jacket and all but come on! The sleeves on the dress with Christopher's jacket?! HOT.
Okay - enough crying from me. Next week, Mondo makes an appearance (hooray!!!!!) for the textile challenge. A choice soundbite from Tim Gunn: "Homage to a menstrual cycle". Holy Mother... That ought to be good!
PS - I was checking out
Valerie Mayen's Instagram feed
on Friday and I came across some
photos
from the
Project
Runway
show at New York Fashion Week from that morning! According to Miss Mayen, the show was the Top 8 designers from this past week, so no spoilers! She didn't have photos of Dmitry on her feed but I found some on good ol'
Tumblr
!!
Hey handsome.