So, I was taking a stroll on
my twitter
while I was uploading the footage that will forever haunt my dreams when I stumbled upon a link to
Cornify's Vision for 2015
.
Now, everyone must know (
if they don't by now
) that I ♥
unicorns
. And sparkly things. And rainbows. And the most awesome person EVER made that available for us to share with
Cornify
. (We also have a Cornify button on this very blog! *GASP!*)
ANYWAYS - I hardly ever do "@Replies" on Twitter because it doesn't notify you when someone replies to you, so I've missed a bunch of "@_Katzi_" replies. (Sorry!) But I guess today was different because I had a little "@Reply" convo with Bobby and then I saw the link to Cornify's 2015 vision. I decided I would take a chance and "@Reply" to
Cornify
- not really expecting an "@Reply" back. BUT to my surprise, I got one!
I know, I know - it's not really
that
serious but I just wanted to express that Cornify's "@Reply" was the happiest part of my day (so far)! I haven't really been myself lately and apparently, it's noticable. BUT Cornify's "@Reply" has given me the boost that I need to keep moving and to keep
Operation Cornification Phase 2: The Re-Corning
on track!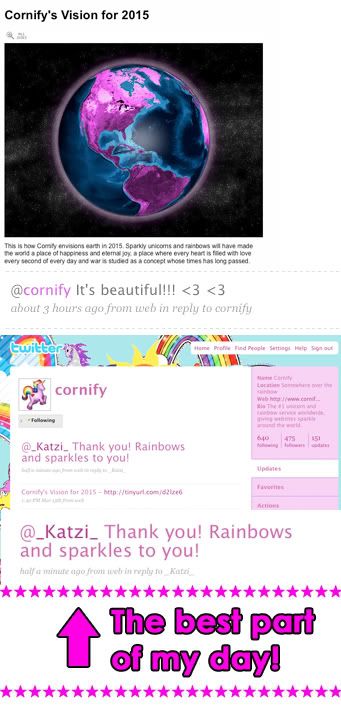 So, thank you,
Cornify
! You have made my day that much better!
Here's a bonus
unicorn
in case you need a little extra! And feel free to cornify this entry. You'll be glad you did! I promise!!!
Rainbows and sparkles for everyone!!!
♥
Katzi
S.L.Y.A.S.D.I.