I know, I know - I'm a little late with my Project Runway recap. Okay, I'm A LOT late but I have a good reason: I'm in the final stages of getting ready for my trip so don't get mad at me okay.
I had the good sense to take some crude notes but I tried to keep them to around one sentence per thought so that I didn't miss that much but I ended up missing some stuff anyways...
I'd like to get an important part of this recap out of the way: GUNNAR DEATHERAGE IS BACK!!
I don't know why but I'm so so SO happy that he's back! Honestly, I prefer his look from his appearance on season 9 but...
...He's still adorable so it doesn't matter!
Okay okay - I think I've expressed enough of my love for Gunnar...On to the task at hand: runway time!
Jump on in!
The challenge was to create your signature piece - as per usual - but the "surprise challenge" was to create a companion piece for your signature look. Gasps all around for the first challenge and all that. Let's see how the designers fared...
Alicia likes to describe her look as tomboy-ish. We like to call it "Drop crotch errything".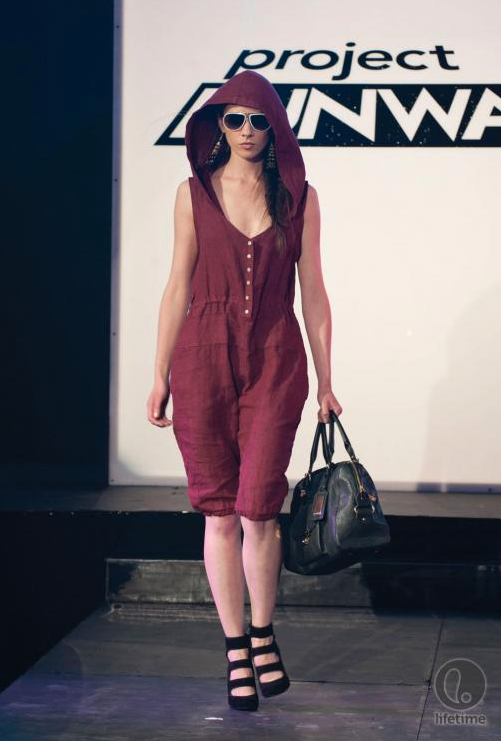 While the drop crotch look is in
(sort of)
I'm personally not a fan because it doesn't work for everyone and when it doesn't work for everyone, it looks like they have taken a shit in their pants. Also - jumpsuits - WTF? I think the whole romper thing is playing itself out but that's just me...
For Grandma Andrea (her words, not ours - okay, we said that too), we dubbed her look: "Blind Melon Bee Girl and Beetlejuice".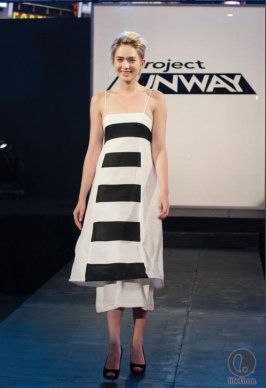 Ummm...oookaaayyyyy...I'll go with the old saying "If you can't say anything nice, don't say anything at all". Moving on.
Our first eliminated contestant, Beatrice. I really can't say much about her look except my notes say that we said it reminded us of trash bags.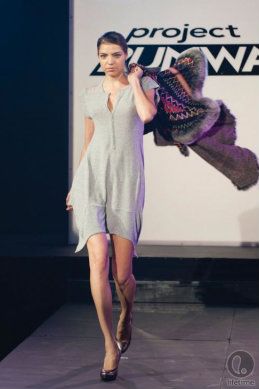 I'll let Stefon handle this one.
Oh Buffi. I think I remember calling her this season's poor man's Anya. I saw her on the
Project Runway FB page
where commenters ripped her a new one for her profile photo.
If you can guess from her personal style this, um, designer has a very decade-specific design aesthetic.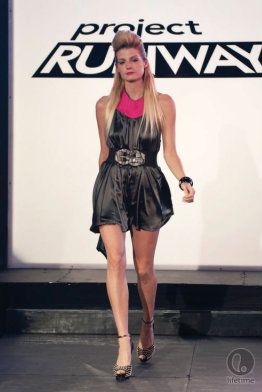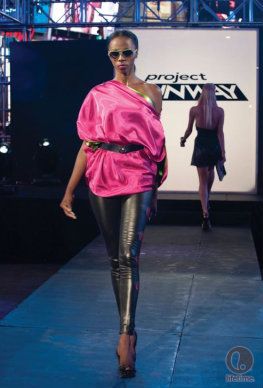 My notes said "Gay-ties". Yep. Take it away,
Stefon
!
Dmitry is very Russian. And very opinionated. I think he and Heidi will get along. We were saying he's
Sprockets
IRL.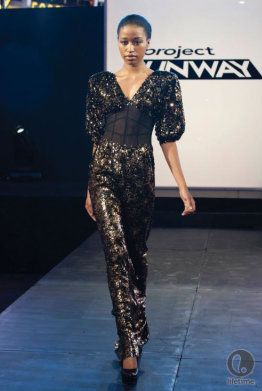 I don't remember too much about Elena's stuff but after getting these screen grabs, I really like her stuff!

It's funny because my notes say "Prodigy video" and I totally see it. But I also really enjoy the first look. The second look...meh, not my taste.
Ahh Fabio. Fabio the Freegan. I could say a few things but I won't be rude. I'll take the Andrea approach.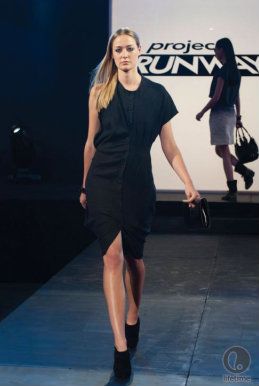 My note for this one was that Lauren said,
"What happened to ombré?"
Gunnar, Gunnar, Gunnar. I remember you saying you design for the kooky rich gals of Louisville. . . aaaaand it shows hunty.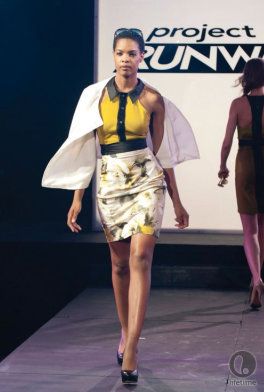 Your second look totally seals that deal. Let's hope you channel your inner "Deatherage" and wow us.
ALL of my notes for Kooan had "kawaii" either before or after his name. And there's really no other way to describe him and his looks.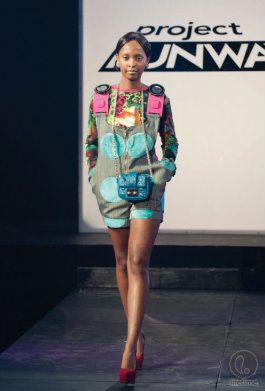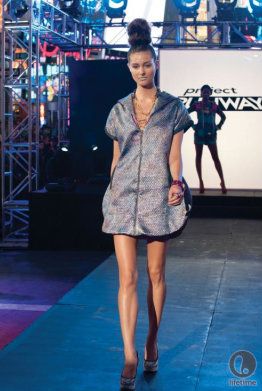 I think Heidi liked it because it was "weird". Me being allergic to overalls and all, I wasn't too crazy about the first look but I have a feeling he will continue with his "Harajuku explosion fashion fun time". Maybe Nicki Minaj will be a judge before he gets eliminated.
There's something about Lantie that I don't enjoy. I'm not sure what it is yet but I'm convinced she might have auditioned to be a "Real Housewife" at some point.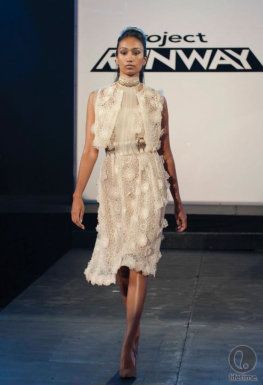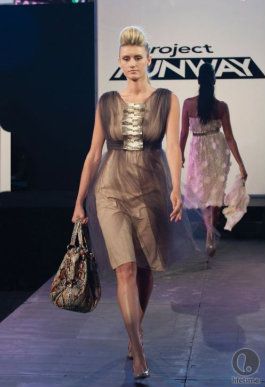 My notes for her say "doily dress". Both pieces don't work together. Her first looks feels like it should be a Boho chic kinda thing while the other kinda reminds me of a cheaper version of Austin's gown.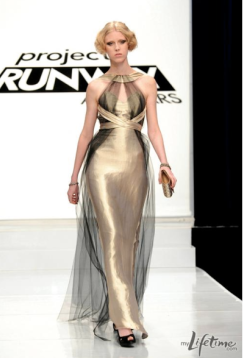 I bet Austin wants to claw my eyes out for saying that but it's just the tulle layering that reminds me of it, not the actual dress. Calm down!
We dubbed Melissa the "Taylor Momsen" of this season. But there's only one problem with her aesthetic: TOO. MUCH. BLACK. While her designs are pretty and I like her style, she uses way too much black and I think the judges are going to rail her for it.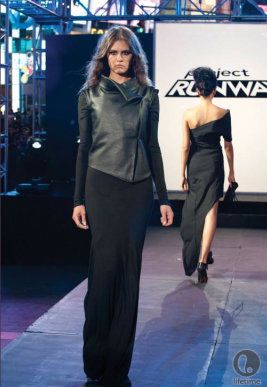 My notes about Nathan were "Poor man's Michael C". I definitely see that, right down to the gathering on the dresses.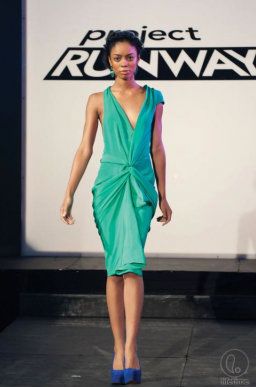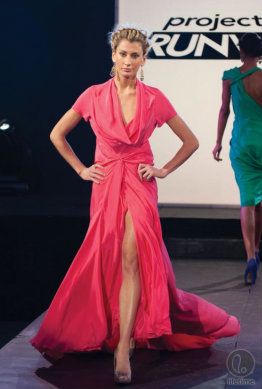 I'm sure he's a nice fellow but so far, he reminds me of a sloppier version of Michael C and Rami.
There's something about Raul that I don't like and I'm not sure what it is yet. One of my notes said "His 2nd look = toilet paper". Yep, I see it. I also remember liking the way he styled the "V" bangs on his models but I would have liked it more if it wasn't because HE does the "V" bangs on himself. Self absorbed? Maybe a tad.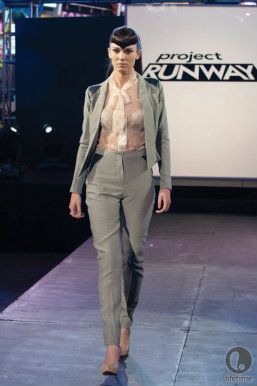 Also, he declared he was a menswear designer and at some point, Lauren was trying to comment on it and I said "I'm not a menswear designer, I'm Raul". Jokes? We got 'em.
My notes for Sonjia match those for Alicia: "Drop crotch - yuck". Yep. And that bow on the first jacket is a little weird. She has potential, I think.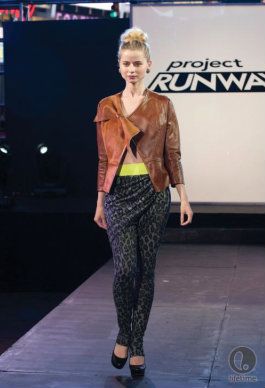 It's too early to say anything else about her so I'll just move right along.
Ven's outfit had some great detail elements about it like the rose petal structure. My note about his runway look is just: "Pat's face". I don't remember what Patricia Field was doing but apparently it was worth noting. Also, we made a "Kiss From A Rose" joke. Too soon?

He's got some wonderful skills with fabric manipulation. Let's hope he takes that to the avant garde level very soon. I'd
LOVE
to him take on that challenge.
Now, it appears I'm forgetting someone...Oh yeah, the winner: Christopher - or as we like to call him: "Other Gunnar". Don't see it? When I saw the Fan Favourite banner on the
Lifetime PR page
, I was like "Why is Gunnar on there twice?!"
And it's funny because those two aren't playing nice with each other. One of my notes says that Other Gunnar told Regular Gunnar: "You belong on
Toddlers and Tiaras
." Um...burn? I wasn't a fan of how the judges were practically fawning over the way he made his second look. I kept saying that particular technique was as if we dove into my ribbon drawer, grabbed all my lace trimmings and sewed them on a shell of a dress in a chevron pattern. Whoa - real tough. And the sad thing about it is that the "train" didn't even move well on the gusty runway in Times Square.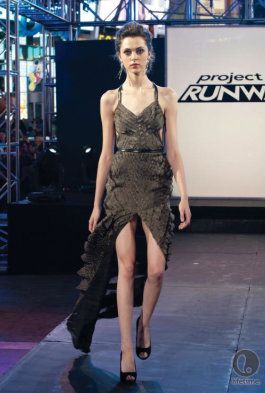 If the judges were freaking out over
that
, this is sure to be a strange season. But hey what else is new right?
How do you feel about the season 10 contestants?