I have spent a ridiculous amount of time on
Craftgawker
. It's true. I spend my days scrolling through pages and pages of creative craft ideas and bookmark them all in the hopes of
maybe
trying them out one day. Take that, Pinterest!
Just kidding.
But seriously, I really do love Craftgawker because I've found so many great blogs through them:
Alana Jones-Mann
,
The House That Lars Built
,
Minted Strawberry
...the list goes on and on - trust me, the bookmarks on my iPad will agree.
Anyways - one of the coolest things I saw was
this
Birthday Cake Care Package from
The House That Lars Built
. So cute!
Source
It also contained a link to the cutest, scariest DIY I'd love to try: the
Cake Postcard
from
She Knows
. I say it's scary because there's sponge cutting and caulk "frosting" involved.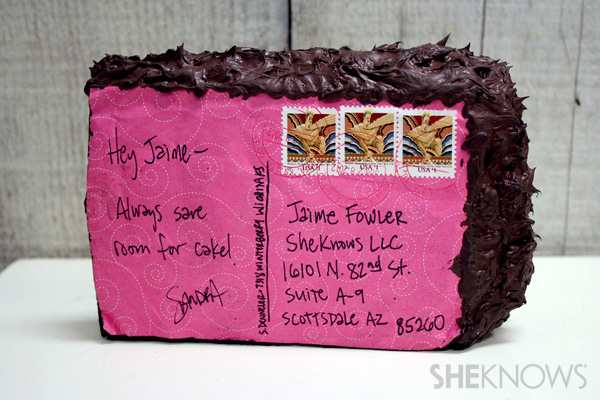 Source
Pretty awesome, huh?! Alana Jones-Mann took it another step further by using that same tutorial to make
business cards
! WHAT?!?!?
Source
Okay, if that isn't cute overload, I don't know what is
(except, maybe, Cute Overload)
.
I didn't have any neat
pie boxes already made
like Brittany did at
THTLB
but I did find a few tutorials on making your very own with
Martha
Stewart
and
Lavender's Blue
! Thanks, Internet! :)
I took advantage of my extremely long render times and assembled some boxes for a care package I'm putting together. Granted, it's super late to the recipient but I think he'll be okay with that. Why did it take me so long? I have no idea! Usually, I'm on top of this birthday thing! Ugh - I've been slipping...
Bonus - the
envelope
for the
Birthday Party Kit
holds Instax Mini prints PERFECTLY! I had just enough glue to glue down the "Happy birthday" wedge to the inside of the blue slice but I had to tape the other cake slices together. Not as pretty as I would like but still cute, I think! Now, I get to take them home and fill them with goodies
(and make a few more!)
I'll do a big reveal once I know the recipient has received it :)
Hope you're having an awesome week!