Well, I made good on yesterday's promise to stick some cherry blossoms in my hair.
No, I'm not channeling my inner Lana Del Rey...
LMAO
I'm trying to make myself
feel
better and more Spring-y to take the focus off of the Sahara Desert that is currently residing in my chest. It feels so dry and full of sand and it's making me completely miserable! Not to worry - I've also been distracting myself with my pretty necklaces.
I took a cue from last night's Project Runway All-Stars and decided I would layer some fancy looking necklaces to exude the "rich girl" vibe. The necklace with the red heart, black chain and black cabochon with the bow in the center is a 3 tiered Betsey Johnson necklace my Mom gave me for Christmas - which I LOVE. The gold Y-necklace with the humungous crystal in the middle is a...wait for it...
"Official" replica
from
The Twilight Saga: Breaking Dawn
movie. I'm guessing it's from
Part 2
since I didn't see it at all during
Part 1
and I made it a point to wear it to
Part 1
because I thought I'd be seeing it then. Once you get over the fact that it's
Twilight
-related you have to admit that it's pretty badass, right? YES!
Everyone at work loves the flowers and the necklaces today!
I also decided to wear my favourite "fashionista" wedges (that were a total impulse buy).
I got them because I really liked the design, they were on sale and they are a little outside the box for my personal style. And because of that last bullet point, I have a hard time styling them. Today's outfit was fun though! Heather was giving me major shoe envy with her
sky high heels
today!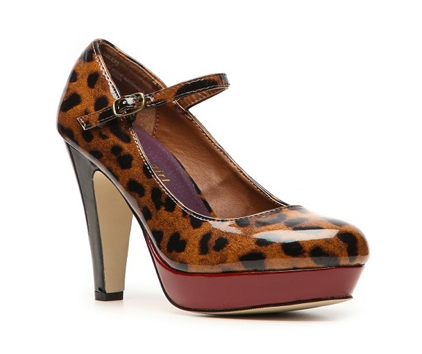 Don't let this photo fool you! They look shorter than they actually are. These puppies are super high! Almost as high as my sliver heels, if not the same height! I wish I could comfortably wear those to work. LOL. I don't think anyone would believe they were mine!
This post was really an excuse to use the new
Blanko Freedom 13
film that Hipstamatic came out with today. I had already downloaded the Americana lens last week with their Free Pak but I have to say that I enjoy the Freedom 13 film with the Tejas lens a little more. This weekend will give me some good opportunities to experiment (I hope!).
Do you have any special, fun plans this weekend?