This episode was full of brooding -
*le sigh* Dmitry *le sigh*
, boy crushes -
Raul hearts Christopher and Christopher secretly hearts Gunnar
, rage -
*cough*Elena*cough*
and my lovely queen, Joanna Coles, was the guest judge all for the Marie Claire At Work challenge!
They were broken up into teams - you know the designers
loved
that - and they had to come with work-appropriate outfits. And they got to direct their own photo shoot - which would be featured in Marie Claire At Work - for the winning team, of course.
The teams were as follows:
Team 6: Sonjia / Elena / Melissa / Dmitry / Alicia / Raul (who was picked last and was very bitter about it)
Team 5: Nathan / Ven / Christopher / Fabio / Gunnar
So what was the catch? ONE DAY to work on ALL their designs and the next day for the photo shoot. Ouch. The best part of the entire episode
(besides the obvious)
: Gunnar's HILARIOUS one-liners! They almost rival those of
The Kors
.
Anyways - Raul freaks out because he doesn't want to be told what to make and he doesn't want to be eliminated...AGAIN and Elena hates everything EVER which, in turn, makes the tension in the workroom palpable. On top of all that, Christopher finds Kooan's comb in the workroom and diverts attention, if only for a moment. The other distraction: the group known as the Chiffon-zies...Chiffonies? The Chiffon-zies/Chiffonies consists of Nathan, Ven and Christopher who express their love for silk chiffon in every outfit. Don't hate. If you can make it work, do it. Just don't put flowers all over it. I'm talking to you, Ven. Dmitry had some choice words about Ven's obsession with flower designs
OMG STOP BEING SO CUTE DMITRY. What he really meant was "one trick pony" but I think I'll add the monkey comment in my bag-o'-runway quotes (along with the hilarious "fish whistle").
On to the runway!
We'll start with Team 5
Nathan managed to make some weird-looking pants that weren't the most flattering for his model and for the work environment. The floral print got some praise from Heidi but I felt like it was a bit boring. Those pants were killing me, though. I really want to see some well-tailored pants. Is that too much to ask?!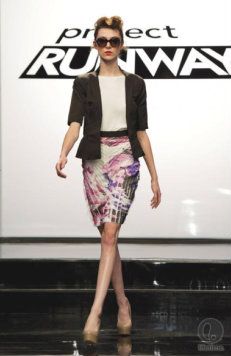 Here's that same technique we saw from Christopher in the first challenge - that weird ruffle layering thing that he did with that weird dress. I thought Heidi was going to run up and dry-hump it since she was freaking out about it. I was not impressed. Heather made a good point about that particular technique with her comment about it being very "Suburban Mom". I have to agree. Sorry, Christopher.
Gunnar's look was cute but the top wasn't exactly flattering. Maybe on someone with bigger boobs (like me) but not his pretty model. Heidi called it "Souffle boobs" and Kors said it was "the souffle that flopped". Joanna Coles said it looked like "two puppies wrestling in a sack". Ouch. While the look is work-appropriate, the judges felt like it missed the mark.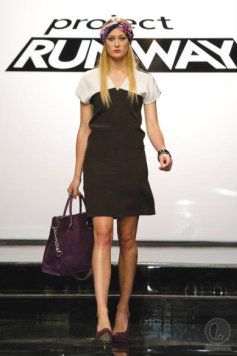 This look was Fabio listening to the judges' critique from last week and I'm happy to say that he really stepped it up! The turban might have been a tiny bit too much but it still worked since it was a unique piece. And though the dress was simple, it made quite the impact - for Fabio.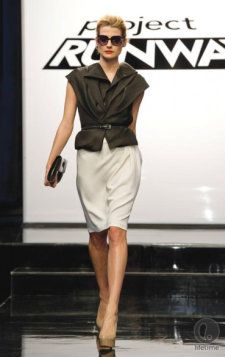 My notes for Ven's outfit say, "Skirt is FUG". Ummm...I guess I as bored with the plainness of the whole look. It was the same flower petal-looking thing
("one way monkey")
and the skirt was boring. I'm not wow-ed by this look but the judges loved it and I could hear Ven's ego inflating when they asked each other who should go home and Nathan declared Ven because he's soooo goood. BARF.
Naturally, everyone was hating on Gunnar but Gunnar stood by his design and held his head high.
On to Team 6!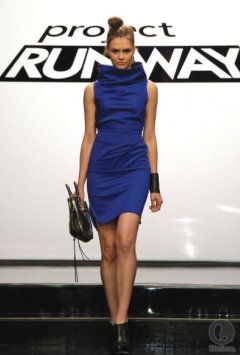 Melissa made something that wasn't black?! WHAT???!!! And it's gorgeous! The neck might be a little too aggro for work but it's a wonderful day-to-night look that is flawless.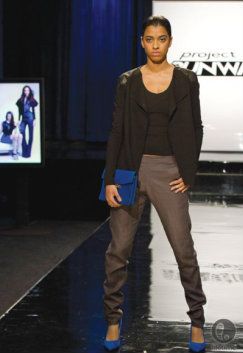 This is the first of 2 Elena / Alicia collabs. Again, here I am waiting for well-tailored pants. Can Alicia make ONE pair of pants where the crotch DOESN'T sag? But there's a silver lining in this outfit: we now know that Elena can make a well-fitting jacket. Huzzah! But we're not done with these two yet...
Aaaaand here's Elena's giant shoulders. Oh, and another pair of ill-fitting pants from Alicia. Come one ladies! Can we please have tailored looks that hug and fit? Is that so much to ask?! Apparently, it is.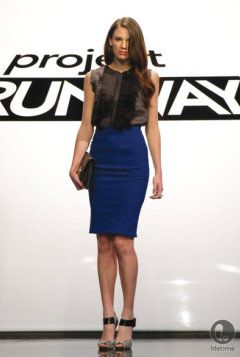 My notes for this look say, "Sonjia is carrying this look". Yes she is. That skirt is PERFECTION and Raul's ruffle shirt is such a workplace cliche. I admit, I have a few ruffle-front shirts in my closet for work but the ruffles aren't this...comical.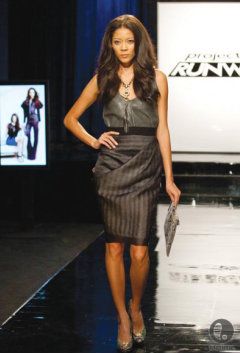 In this second Sonjia / Raul collab, the look isn't as strong as the previous because the skirt is a little more whimsical with the stripes and the creative draping. The top is pretty but boring and honestly, it looked way better on Elena. She, um, filled it out a little more...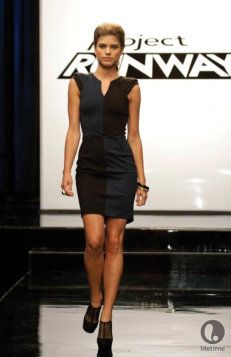 Dmitry's look is strong for the workplace but I'm not a fan of the colour blocking. It looks like a
t-shirt DIY I saw on Rookie
for a mod dress. Just to clarify - I'm NOT hatin', I'm just saying. I do enjoy the little "V" in the neckline and the triangle cut-outs in the back. It shows me that Dmitry clearly loves skin, but not too much.
This Tweet
might sum it up. Let me fan myself back to reality...
The clear winner was Melissa with her strong blue dress and Team 6 will have their editorial photo shoot on the glossy pages of Marie Claire At Work! Congrats Dmitry! And Team 6 as well! LOL
Raul was eliminated AGAIN but this time, he had some choice words for Elena. He was being GROSS, innapropriate and pretty much showing us the kind of terrible person he can be. Meanwhile, Elena was all
She flashed her pretty red pout and made the silent promise to kill him. Just kidding about the killing thing. She was very gracious and it makes me wonder what really happened between them. I mean, the day before he had her boobs in his shirt-vest thing. I guess it was her INSANE behaviour at the photoshoot. She was noticeably sour and trying so hard to be in control. It was a little crazy to watch but I get her over-protectiveness. It was still scary though! Yikes!
I found it funny that during Raul's second exit, he reminded everyone to "keep it real" when all Elena was doing was keeping it real. I guess that's why he's gone AGAIN and she lives to fight another day.
Next week looks like a "Real Girl" challenge and Ven has some choice words about his plus sized lady. My notes say: "Ven - have you looked in the mirror, bitch?!" LOL. I amuse myself. Let's hope next week is equally amusing.