Project Runway All-Stars
being on tonight, guess what special package arrived for me?
Does that bowtie look familiar??? How about the silhouette?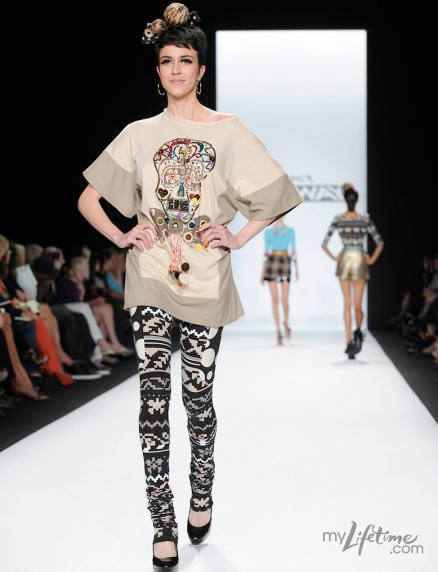 That's right - it's a
Mondo Guerra sugar skull shirt
!! I had ordered it last week and was looking forward to it arriving last Thursday but I accidentally had it sent to my Mom's house (it's a habit) and she told me about it today. Either way - IT'S HERE NOW!!
I'm not one for "What I Wore Today" posts but I had to do one today since...well...you know... So here it is - my first "official" What I Wore Today post...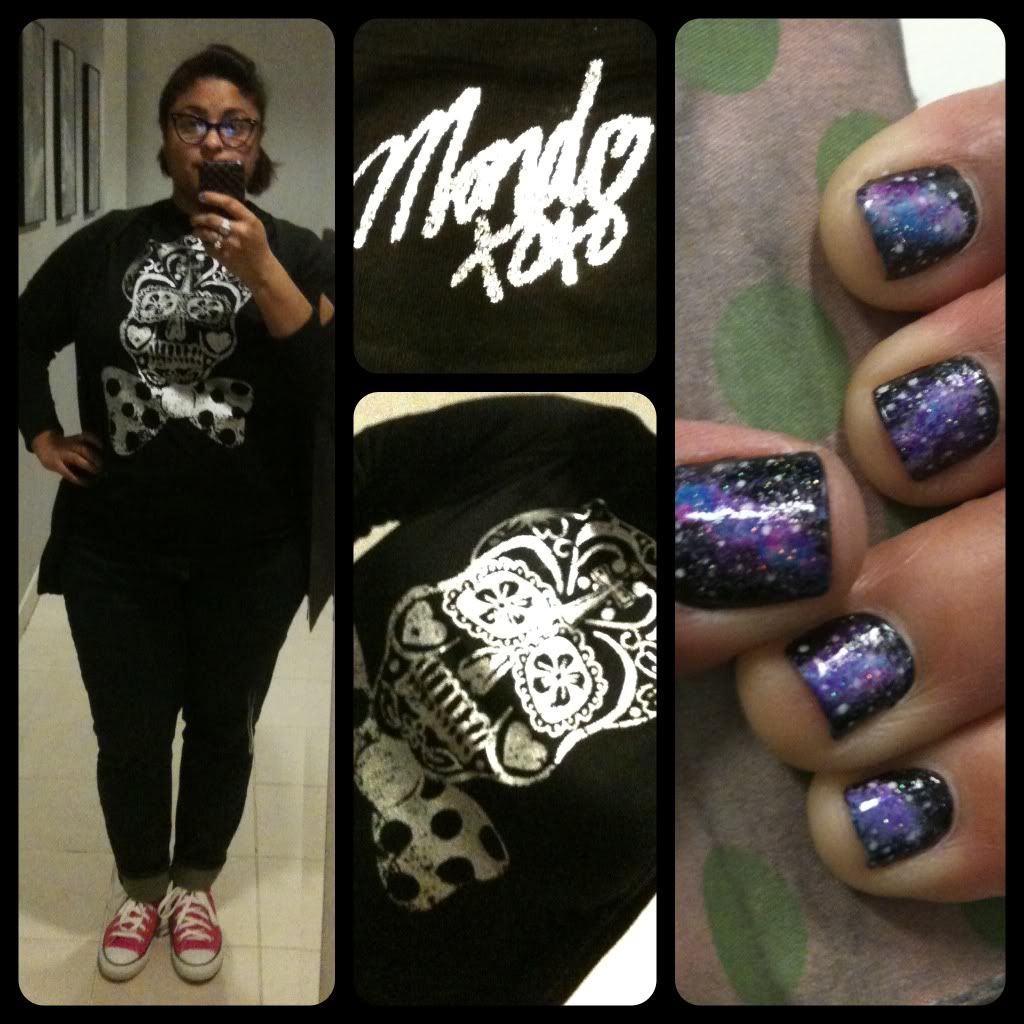 I'm keeping it basic with jeans and my Mondo shirt. Originally I had planned on something bigger and better for this outfit but we can't wear shorts to work so...dark blue denim it is! My galaxy nails are holding up pretty nicely as well. This is also the third time I'm wearing my hot pink chucks.
I mean, they're totally appropriate right? And I was *trying* to channel my inner Mondo to make good on my promise:
So...here's my first "official" attempt at a Mondo bouffant:
With my inspiration photo as my phone background, I think I'm off to a good start BUT I will try harder. This was like one of my regular bang sweeps but I did tease a little base and I hair sprayed it to itself (which I'll probably regret during my workout later). Not too bad for an impromptu bouffant!
I've also been looking for an excuse to buy purple (or any colour jeans, really...)
And I think my Mondo tee is my in! Honestly, I think I'd only wear the purple jeans with the Mondo tee but I could expand on my colourful pants wardrobe and buy accordingly? Who knows! The possibilities are endless!
Maybe I can put something together for a certain PR All-Star's viewing party - after he gets auf'd so it won't be weird...
ANYWAYS - I hope to take my original outfit idea for this shirt out and about sometime soon. Until then, join us
TONIGHT
for Project Runway All-Stars live-blogging fun!
Katzi
S.L.Y.A.S.D.I.