We're no strangers to actors walking the runway during Fashion Week and at Prada's Menswear Fall 2012 show at Milan Fashion Week, there were some familiar faces rocking the red carpet runway.
Aptly named "Prada Presents: Il Palazzo. A Palace of Role Play", the show featured "a parody of male power". Fabrics and patterns were not as they seemed...
*Read HERE for the full review*
But while Miuccia Prada dazzled with her striking patterns and Steampunk / Edwardian /
Sherlock Holmes
-esque style, some famous faces stood out...
I am (and always will be) a fan of Emile Hirsch. He looked absolutely charming in this outfit.
How I've missed you Emile!
Adrien Brody KILLED this outfit. The red glasses, the red jacket, the slicked back hair and the walk. THE WALK.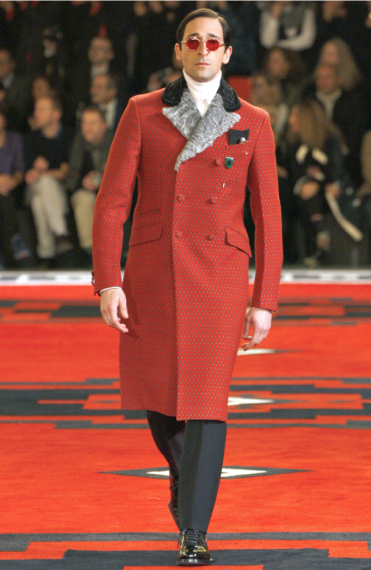 I feel like a romance novelist thinking of ways to describe Adrien Brody here but I'll spare you...
Always the badass, Gary Oldman showed everyone how it was done on his turn down the red carpet runway.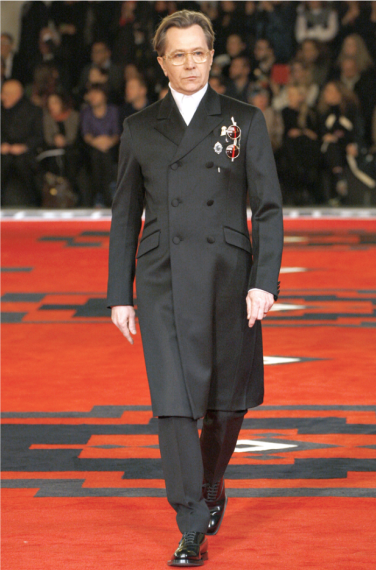 Just look at him! He's making that outfit his bitch and although it might be constructed out of inexpensive material, it looks like it's worth $1,000,000,000. He is owning it. And look at that snarl. Perfection. No wonder he ended the show. BAM.
Also in this show, I think I've found my latest inspiration...
His name is
Lessandro Reyniers
and he is WORKING that look.
You can see the complete collection
here
See the video of the show
here
You can see the other gifs
here
(with Tim Roth, Jamie Bell and Willem Dafoe)
You know who was missing though? Nicholas Hoult and Jamie Campbell Bower...They would've added to the handsomeness. Yes I am aware that I've said some not-so-nice things about Nicholas Hoult but after watching him in A Single Man and seeing his l'il face plastered all over my Tumblr dash from when he did that Tom Ford campaign, I must say he is quite the handsome fella! But I will save that for another day..........
Katzi
S.L.Y.A.S.D.I.