Hello all! I hope you all had a wonderful new year! Here is my first "Official" photo of the New Year:
I had every intention of putting that through Instagram after I had taken it with the default camera but then I realized that I've never taken a photo
in
the Instagram app - I've always taken it with the default and then I'd run it through Instagram later. Why not try something new on the New Year?! Here's my first in-app Instagram photo of the New Year:
How exciting! I'm glad it turned out pretty. I wanted to keep with the sparkly idea for the New Year.
Yes, I wore my sparkly heels but I altered the outfit a little...
I saved my "LOVE" shirt for our annual black eyed peas and greens dinner and I made my "Out with the old ghosts" t-shirt based on a few designs I had seen on the web.
The first inspiration was
this shirt
that I had seen on Pinterest:
And that post led me to
this shirt
:
I follow
A LOT of DIY/Craft stuff on there and I'm constantly "liking" different things but keeping my "re-pins" to a minimum. I could NOT pass this one up - especially since I saw some shirts like this at the mall. I didn't do the glitter/glue combo since I already had glittery fabric paint that I LOVE to use.
The next inspiration was a post I remembered from a while back from my favorite DIY fashion blogger: Marlena at
Self Constructed Freak
. Once I saw
this shirt
, I knew I HAD to do it.
Thank goodness she made a
tutorial
for it because I never would've had the patience to figure out on my own - even though it's quite easy. I'm just really impatient and if I can't visualize it on my own, I'm screwed.
Needless to say, I didn't do the crop-top version of this but because I bought a larger-than-normal shirt, I had enough fabric to cut off the the bottom to use for the ruffle sleeves - which I ended up having to take OFF since my sleeves ended up connecting, which I thought was awesome, but it added a lot of bulk to my armpit area.
While the ruffle sleeves were a cute addition, they just were not working and sadly, I cut the whole sleeve off and started over with the original sleeve of the t-shirt without the extra ruffle part. Once I re-sewed the ruffled original sleeve back on, I felt a little better about it. Especially since I brought the sleeve in a little more when I cut the sleeves off. I think that was the main problem. I guess I hadn't factored in that I was working with a larger-than-normal t-shirt, so there was going to be some bulk. I ended up taking it in an inch on each side. I wanted to take it in more but I didn't think it would be ready by New Year's Eve and I didn't want to risk messing it up by accident.
Yeah, so all that talk about my skeleton shirt and guess what - I only have ONE photo of it and that's with the OLD sleeves! I with all the holiday hoopla, I totally forgot to take photos of my holiday outfits! Gah!! Oh well, here it is in it's bulky sleeve glory:
And that's BEFORE I tacked down the ruffles to connect at the armholes...
At least there's proof that I did do it but I had to make it my own!
The outfit still looked like this on the bottom: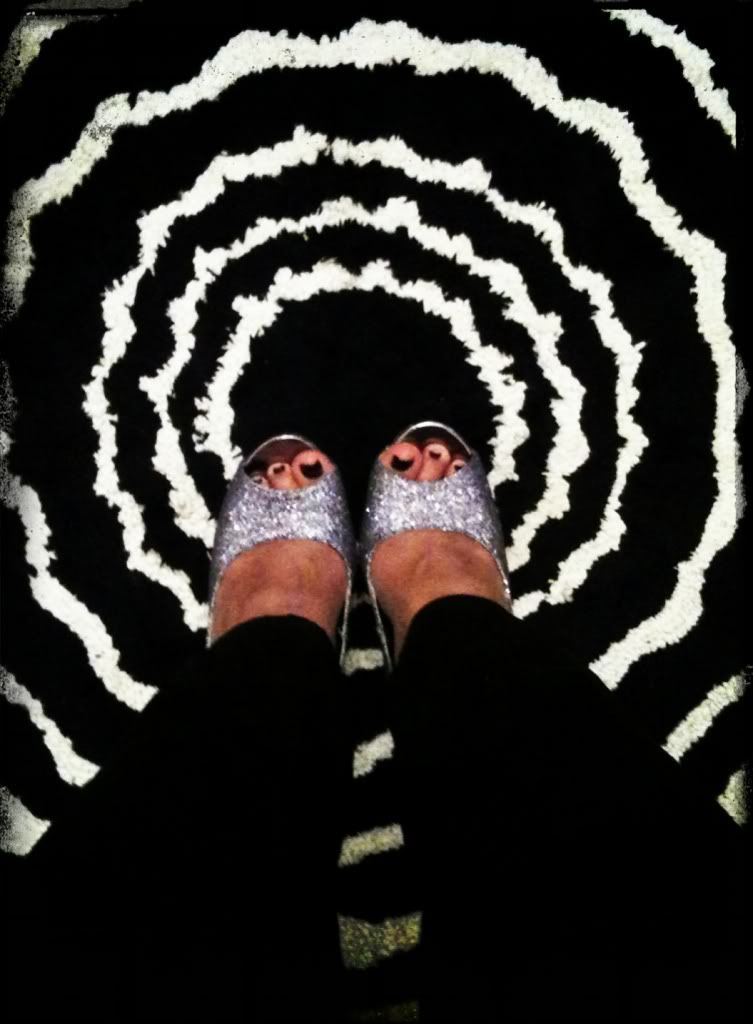 But because I knew I was going to be running around
(which I did A LOT)
, I brought a sparkly pair of flats with me. But you'll be happy to know that I was wearing my heels at midnight and I wore them during the midnight rituals:
The Midnight Kiss
Eating 12 grapes (one for each month - if you get a sour one, that month will be "sour" but all mine were sweet!)
"Crossing over" into the new year with: a backpack (to travel in the new year), money in your hand (for prosperity) and making noise (to chase the "old ghosts" out)
It was very noisy, extremely hectic but ridiculously fun! The only ritual we didn't do was going down to a four way intersection and throwing pennies while making a wish for the new year in each direction. Come to think of it, we haven't done that one in a while. Oh well. Maybe next year?
Are there any traditions you do for New Year's?
Katzi
S.L.Y.A.S.D.I.