Saturday would've been Nate's 30th birthday. So how did we celebrate? By going to his old job: the Pink Pony. I haven't been to the Pony since before Nate passed and I could never bring myself to go - until that night.
I met up with Nate's sister Alysia and friends Sarah and Robert. I have to admit that it was a little awkward at first, you know, being at the Pony with my first boyfriend ever but after a few drinks and some celebratory Jaeger shots (Nate's favourite), the night turned into something pretty awesome and quite memorable and I think Nate would have been proud!
And since I didn't get a chance to make it over to Nate's memorial Saturday, I went over on Sunday with something other than my usual flowers.
I wanted one of those larger, more obnoxious "Hey, You're 30!" balloons but nothing was really catching my fancy and there
is
an operating business on the corner where his memorial is so I didn't want it to be too too much. I think I succeeded though. The other one I was looking at was really girly (which would've been hilarious) but I would've had to accompany that with more
girly daisies
like I did a few years back.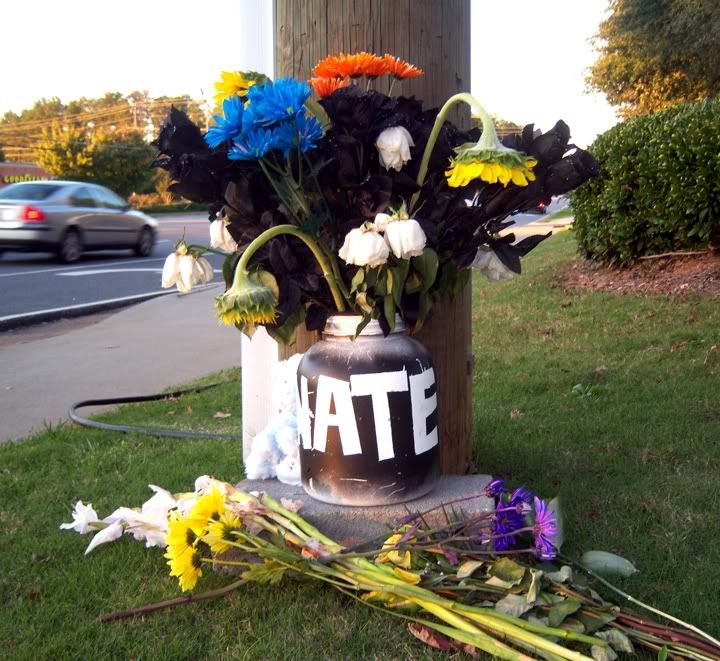 Ugh - I can't believe it's been a few years already...I really miss you Nate. I hope you and Tim have met up and you guys are making some pretty awesome music together. XOXO
Editor's Note:
As a bonus to keep Pharrell Week going, one of my favourite dancers
(that night)
hit the main stage with my favourite song: N*E*R*D's
"Lapdance"
(of course)!
WIN!