Since there was really nothing to recap from last night's episode, I think I'm going to reflect on the top three designer's favourite three looks from this season of All-Stars.
I'll start with Austin.
Austin has been all over the place for me. I love him. I can't stand him. And sometimes, he's just
okay
. Personally, none of his looks really wowed me this season but then again, I'm not that much of an Austin fan to begin with. Sorry folks! Anyways - here are my top 3 Austin looks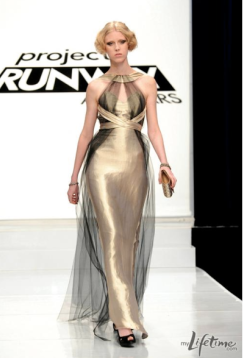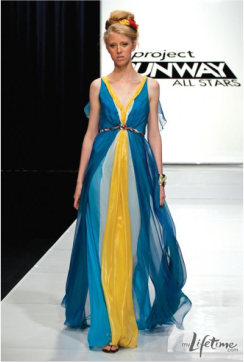 Although it wasn't my absolute favourite, I did like the way the black tulle worked with the gold in the Opera challenge.
For the street wear challenge, Austin picked the best muse out of all the kids and turned out this really fierce look that his muse would kill for.
And even though the flag challenge wasn't the best, I really enjoy the movement of the fabrics. The front could've been executed better at the bust but the dress is still pretty.
Michael C is another one I'm all manic about. I love him. I can't stand his drama and sometimes, he really turns it out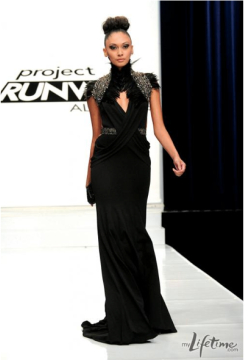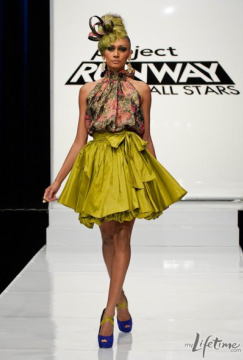 I couldn't do this entry without talking about my most favourite dress all season: Michael C's Opera dress. Holy Mother! It's gorgeous! You can't sit there and say you hate it because YOU DON'T. You know you secretly want this dress. I know I do. DAMN!
The skirt for the
Godspell
challenge was gorgeous. I wasn't a big fan of the overall look BUT I do love the shoe / skirt combo. Lovely.
The gelato challenge wasn't the greatest either but I think this is a good example of his drapery. He's so skilled and it moves beautifully with his model. If I could, I'd try to commission him for a draped piece. It's like liquid.
On to my most favourite designer is the entire Universe: Mondo!
Mondo has really turned out some amazing stuff this season and I'm really proud! What I'm kind of afraid of is his moodiness. Those Geminis have that split personality thing going on and sometimes it's good but Mondo kinda scared me last night with his extreme self loathing. But you know what? All that self loathing just means his collection will be tight and right.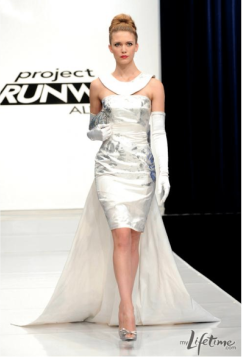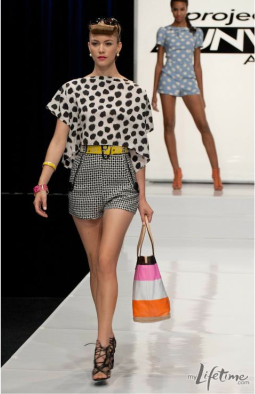 For the
Godspell
challenge, Mondo used his greatest skill to his advantage: successfully mixing prints. I was a little worried because alone, each print was a bit much but together, they were just the right amount of eccentric and that led him to a win!
The Opera dress was GORGEOUS. I mean, the cape, the collar cutout, the silver flecks...everything about this look was glam-o-rama and so totally Mondo. Beautiful!
Even though the judges gave Mondo such shit for his Summer challenge, I loved it. I love the polka dots on the shirt with the weave pattern on the shorts. I love the neon pops of colour and I love the Barbie look of his model's hair. Everything about it was great and fun and Summery but the judges didn't think so. Oh well.
This I just had to share - while I was taking a look back at the past looks of this season, I was looking at Mondo's street style challenge and I realized something: his model kinda looks like Willam from
Drag Race
season 4. Ha!!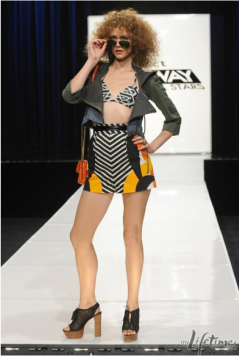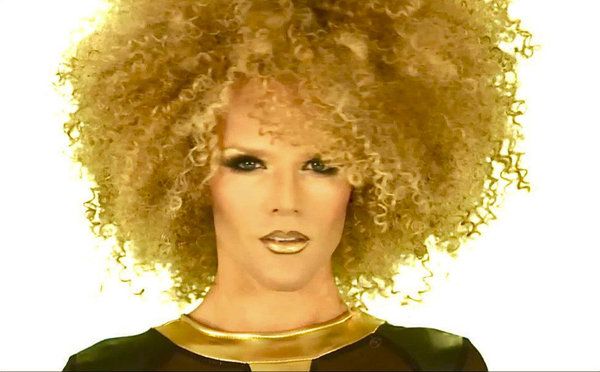 LOL Frizzy hair and all! Wowzers!
Aaaaanyways - I hope Mondo finds himself in his therapy-themed collection and wins the whole thing (like he should). The inkblots he made were awesome and I can't wait to see his final looks!
Who are you rooting for?