I'm not going to lie - last night's episode was a bit of a dud for me. Yes, they had to be budget friendly but who in the WORLD buys "budget friendly" clothing for the retail value of $350+? I get it. It's locally made. I get that. But DAMMIT that's just way too expensive. I mean, last night's winning design
(by Mondo of course!)
is for sale for $298. $298!!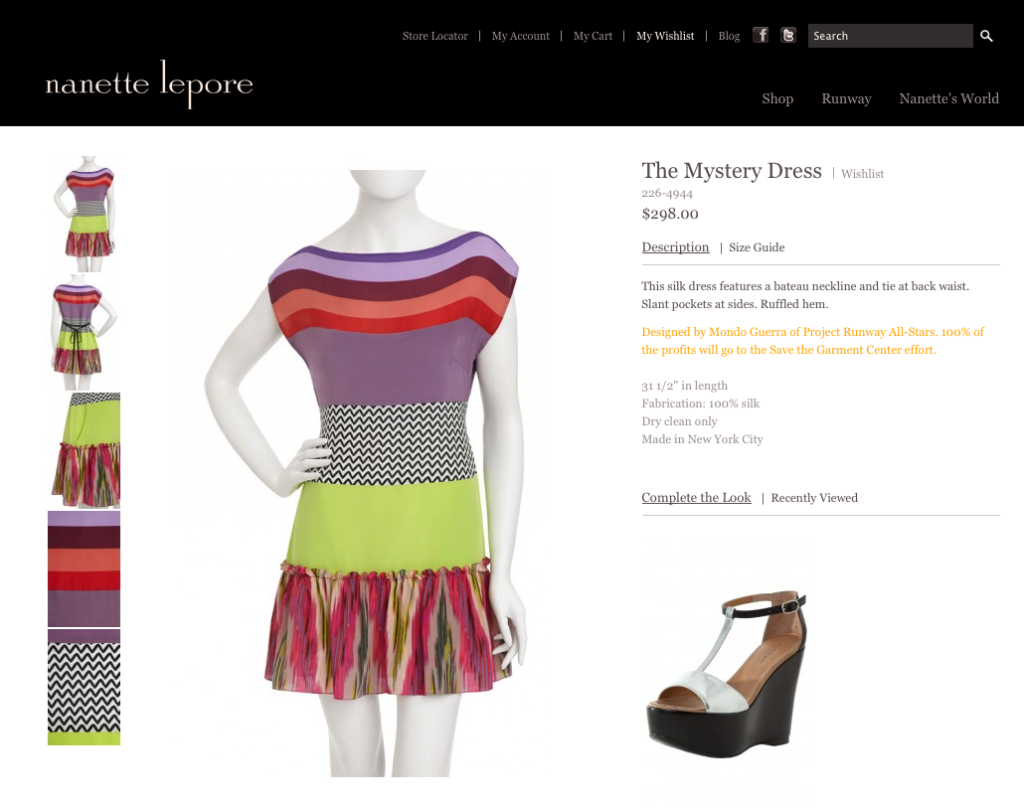 Notice some changes to the original design? Yep, it has some darts and some shaping in the waist. Thank goodness because Mondo's original design was quite boxy, unfortunately.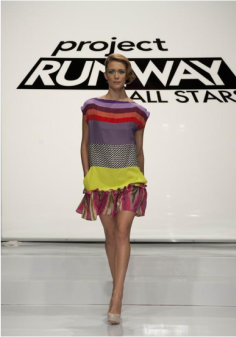 Boxiness aside, I LOVED the fabric choices. They went so well together and it was a very updated work-worthy outfit.
Michael C's was pretty but I felt like it was a little boxy too.
The pattern was cute, the dress was average and that poor girls' boobies were itching to pop out. I thought that tiny bit of gathering at the front wasn't quite enough to shape it at the hips for me and even though Nanette and Joanna asked for a hook and eye closure for the front and back, he didn't give it to them. I think Michael C is obsessed with boobies. Yeah. I said it.
Austin's felt very matronly AS USUAL. The judges also beat him up a little about the fabric choice but I agree - not every fabric works well on the runway.
While the idea was there, the more I looked at it, the more I felt like this dress / swing jacket thing reminded me of a night gown on
I Love Lucy
. And it wasn't helping that
this ad
played during the broadcast because it only heightened my feelings about how old it felt.
Maybe Austin likes to make his model look older than she actually is?
Kenley picked a pretty pattern. She also sketched up a big bowl of Kenley Stew. Why did she think it was going to work? Why? She removed the keyhole from the original sketch - which ended up being a very smart move because if you think about it, the keyhole would've had to line up with her pattern perfectly and either it would've gone south or it would've been a HUGE keyhole.
Those peacock feathers are too big to not be cut out for keyholes and if she had only cut out the center part of the design, it would've looked like a purple hairy hole. HEEEEYYYYOOOO. It's Project Runway All-Stars, not Drag Race! Anyways - I think there was no winning with this pattern anyway because she didn't line up her seams and it was the same Kenley silhouette as always. And Nanette sounded like she got her feelings hurt because Kenley didn't take her advice. Well Nanette, that's one thing you ought to know about
Street Bosses
like Kenley: she does what she wants! And with that we say BYE GURL BYE to Kenley*.
*No cats were thrown in a fit of rage