Last night's finale was CRAZY! I felt like it was Heidi and guest judge Jessica Simpson fighting with Michael Kors and Nina Garcia over Mondo and Gretchen - only replace Gretchen with Michael C and you have the fight between Georgina Chapman, Isaac Mizrahi and Mr. Giggles Ken Downing vs Not-Heidi host and Tommy Hillfiger. Tommy and Not-Heidi were really stating Michael C's case but Georgina, Heidi and Ken had a point about Mondo: he's ahead of the trends, he's more youthful and he has really great ideas. But we already knew that, didn't we?
On to the runway show! I'll start with Austin.
I think when he came out and gave his inspiration and description of his collection by saying it was "Hasidic Jew meets Victorian vampire meets Williamsburg hipster dandy friend", I could see how Ken Downing was laughing. All I kept thinking was that that sounded like what the costumes would be if
Interview with a Vampire
had been filmed now instead of the 90's. That shit cray and you know it, Austin. Either way, he stepped out a fairly nice collection.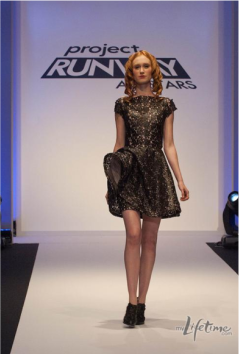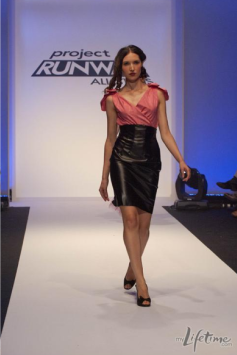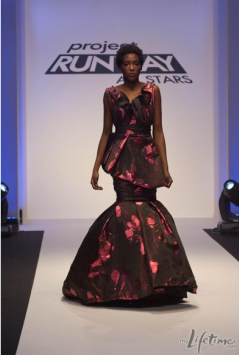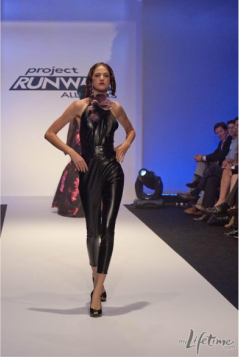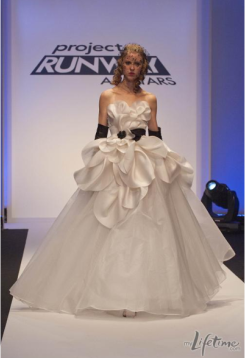 I wasn't too crazy about his model choice for the 4th look because she didn't carry the dress well and I think that ruined the look for me. As far as the styling goes, that hybrid pageant Victorian curls thing is killing the first look. Like, murdering it. It's not doing that look any favours and neither are those pants. Eww. Tommy Hilfiger wanted to have babies with look 5. I think he was more crazy about the "rock 'n' roll" catsuit than Austin was! And I thought it was smart for Austin to have done the wedding dress (with Anthony's touches of black accessories from the Opera challenge) but I expected a little more. The petals were nice and the black accents were pretty with the different white textiles but I wanted a little more of the vampire element brought in to this particular look. But, unfortunately, Austin's aesthetic is older and he caters to the suburban moms with money and it shows big time. I think his 1st and 5th looks were his attempt to be more youthful but they didn't work with the rest of his pieces.
Michael C took us on a Gretchen-styled adventure. Yeah, I said it. Watching his stuff come down the runway AND hearing all the critiques about it made it feel like the Mondo / Gretchen showdown of season 8. I was a little scared for a minute there. Thankfully Michael spared us the granny panties and he showed some out-of-his-comfort
(draping)
-zone pieces.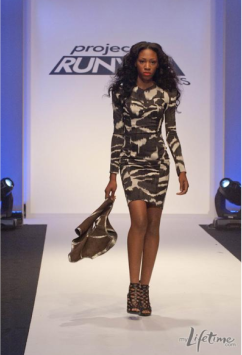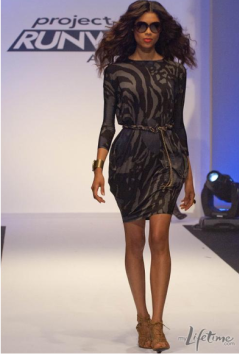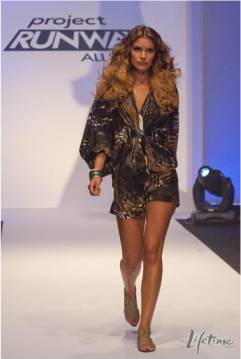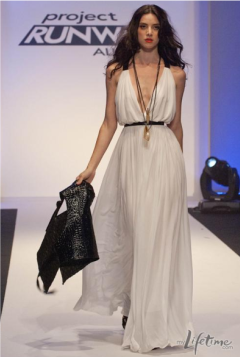 Not gonna lie - the models in looks 1, 5 and 6 look FIERCE. I'll even go as far as saying the model in look 5 looks like she could be a tan version of Diane von Furstenberg. Lovely. I will also admit that I LOVE the dress in look 6 without that damn vest. And Lauren and I decided that Michael's best piece was look 2 because of the structure and angles and guess what - that's the one April helped him out on. No surprise there. The rest of the collection was too commercial-y I think. Like he wanted to show them what he could do for the Neiman Marcus collection but that's not exactly what they wanted. Well, maybe that's what not-Heidi and Tommy H were expecting but I think they forgot how the show actually worked. Not a terrible collection, though.
On to the night's winner Mondo! First of all, I love that he finally won and I'm kind of glad that he didn't win season 8 because these prizes are better. I think Neiman Marcus and Marie Claire will both benefit from having him because his point of view is so young and fresh and modern. He's a great choice not only because of his playful youthfulness but he's thoughtful about each piece and he really knows how to manipulate patterns to make his own. Very clever.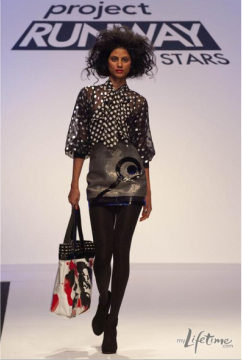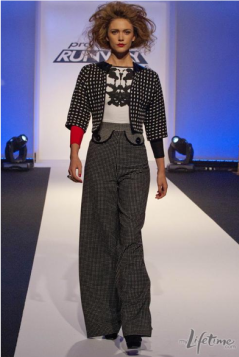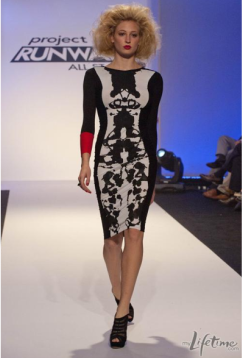 While I always love everything Mondo does, I wasn't crazy about look 3 because it very distinctly has Mila's influence. Ugh. BUT it didn't hurt the collection, thankfully. The inkblots were gorgeous and I was so happy to finally see them! We just kept getting glimpses of them and I think the only full one we saw was the one in look 4 but the dress in look 5 is stunning and I would love to have that. Ken Downing called the first piece a "wow piece" and then Tommy (I think) kept saying the buttons on look 2 were comically large - which I thought was wrong because I thought the proportions worked with the polka dots, the large buttons and the circular pockets. It wouldn't have hurt to have made the pockets a little smaller though but at that point, they'd be purely for decoration and they'd have to question his motives on that one. The rest of the pieces (save for look 3) was very Mondo though. His point of view came across very well and I think the fact that he made the textiles for looks 4 and 5 with the inkblots might have sealed the deal for him.
And can I just point out that last night, Lauren pointed it out to me that Angela was giving Georgina bitch face about her wanting Mondo over Michael C and ultimately, it was Angela's forced smile and "eat shit" bitch face look that gave it away before they even started talking to Michael that it was clear that Mondo won. Re-watch it and you'll see it too. There was no cutting around that Stinky McStinkface.
I want to congratulate all the contestants on Project Runway All-Stars this season because they were all great sports for coming back and they all did a great job with their newfound points of view. This season of All-Stars kind of made up for the shitty seasons of Project Runway, I think. But I feel like maybe season 10 will end up like season 8 and 9 where you get bitches like Anya and Gretchen taking the wins away from more deserving contestants. We'll see how that goes.
I hope to see you again on the runway for season 10 and I hope it doesn't disappoint!