I am confident in saying that this might possibly be the weirdest challenge in Project Runway history. Lights?! Really? Wowzers. While it was crazy cool, it was mostly CRAZY. Of course Pharrell would have the craziest challenge! And that's why I love him.
Jerell made the tackiest thing yet with this weird-ass raver dress.
**Just so you know, they're ALL raver outfits to me**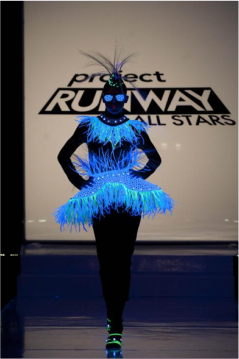 The glasses are FUG. The fiber optics in the hair is totally FUG. The Grandma skirt is super FUG and the peplum
thing
is...well, FUG. I don't think any self-respecting raver would actually wear this! The sunglasses
mayyybe
but this is terrible. And I'm glad to see you go Jerell. GURL BYE
Mondo made this cute little traffic cone bra thing although he was struggling a bit this week - which is a little unfortunate because this could've been a Mondo challenge. Either way, it was cute.
I like the face cage he has over the eyes and I'm glad the judges recognized the fact that his look was a completed look from head to toe. It seems like Mondo is the only one to think these things all the way through. Hearts for Mondo!
Not gonna lie - I liked Kenley's neon tape plaid she made. That's right - I'm enjoying a Kenley Collins design but let me clarify: I like the plaid pattern. The silhouette is still very Kenley (tisk tisk) but with kimono sleeves. Clever, Kenley, very clever.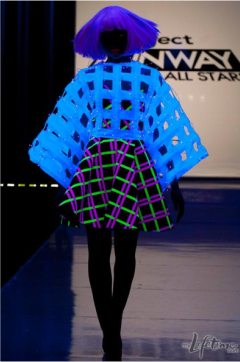 Pharrell was showering her with compliments and I thought I was going to have to jump through the TV and snatch her face off. I'm the only one for Pharrell!! I kid, I kid...
Austin's looked like he took some lights and threw them on his shell of a dress. While the dress was pretty, I think it would've worked better if he had really thought about it a bit more.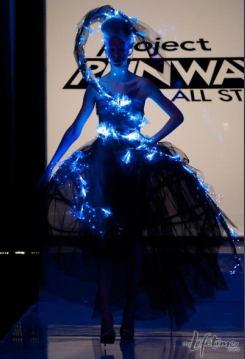 It was a pretty dress, really. I got the whole stars and heavens thing but it didn't have to look like he made a dress and
then
stuck lights on it. And I should've known he was going to win when they showed him on the phone with his too-young-to-be-his-mom Mom. She told him her house went into foreclosure and there is the possibility that she might be losing it. Very sad :( I'm sure everything is worked out by now and I hope she's doing better.
If you want to see Michael C's dress, imagine TMNT's Shredder, Mortal Kombat's Scorpion and the Bumble Bee girl from the Blind Melon video.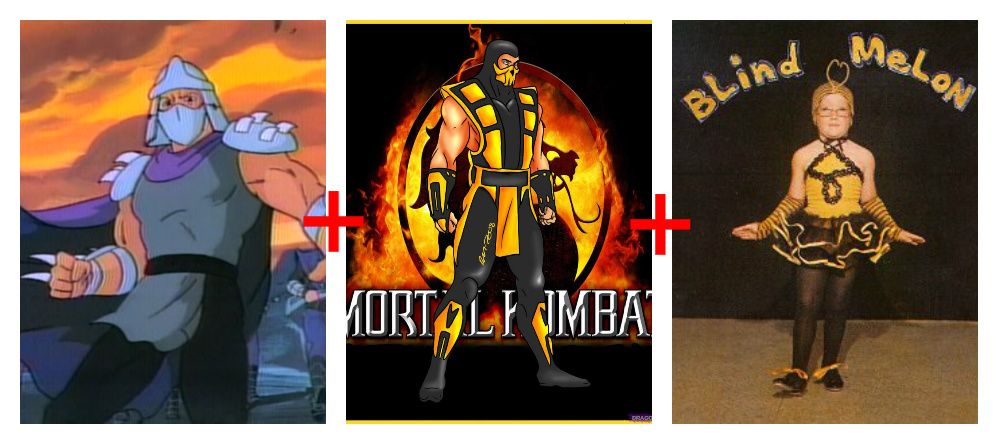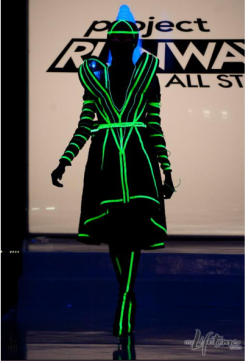 This was like the ULTIMATE raver outfit and honestly, I could see that at the club. He was dangerously close to getting auf'd but I don't think they were really going to auf him when you compare this to Jerell's. I mean come on.
I liked Pharrell as a judge!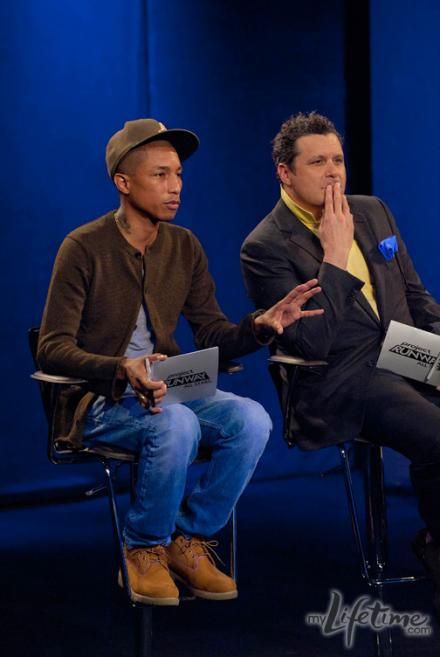 He had some great comments to give. Speaking of comments, Kors would've been proud to hear what these kiddos were saying. You know he popped over to check it out! He had to with this challenge! I would've LOVED to see what Joshua and Christian would've done with this challenge! Holy mother! That would've been hilarious!
The preview for next week didn't really give us much but I'm hoping it's another silly challenge. They've all been pretty silly since the U.N. challenge...And can I just say that they were being a little too nice to Jerell on
After The Runway
? Like, they were tip-toeing around the fact that his designs are tacky - except for when Joanna did the "Hideous or Fabulous" thing. She told that bitch his shit was ALL hideous! That's right, girl! Stick it to him!
ANYWAYS - I hope to see you all next week for the live-blog! I'm going to find my pacifier, get a Vicks massage and RAVE OUT